How Important is Car Wash Advertising and Marketing?
If your investment focuses on a handful of car wash sites or less, you've likely allocated about 5% to 10% of your revenue toward your marketing budget. If your enterprise is larger, that budget could climb to nearly 15%. You need to know that investment is working for you.
Executed properly, marketing your car wash will not only create awareness – letting prospective customers know you exist – it will also help you reach a wider audience and generate increased interest in the services your car wash offers. The right marketing strategy will also help you:
Communicate what sets your car wash apart from the competition
Showcase your expertise and authority, which fosters customer engagement
Drive sales and revenue and encourage repeat business
A strategic partnership with a car wash marketing agency can help ensure you achieve those goals.
Partnering with a Car Wash Marketing Agency
Enlisting the services of a car wash marketing agency does much more than provide you with strategic and creative support.
For one, it's more cost-effective and efficient than hiring your own marketing specialists. And working with an agency that has deep car wash-specific knowledge will deliver creative and digital campaigns that better resonate with prospective customers.
The right partnership will also free you to focus on business operations, allowing agency experts to manage promotions and campaigns that grow your business while your duties are elsewhere.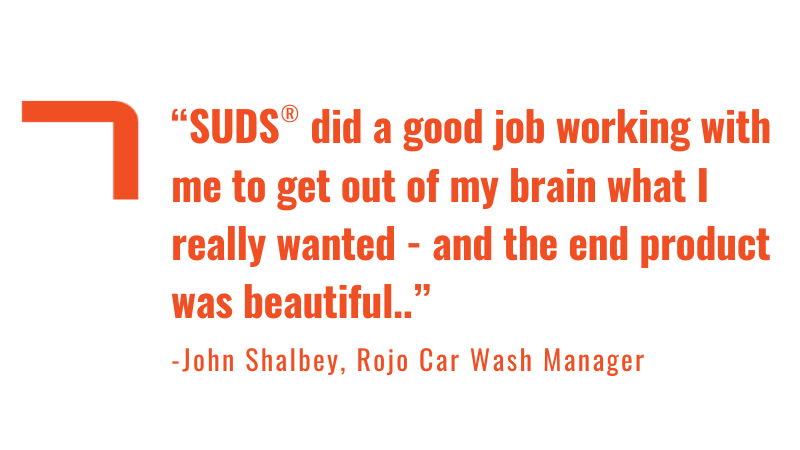 Take Rojo Car Wash, for example. Before partnering with a car wash marketing agency, the business was underperforming compared to its competitors, says John Shalbey, Rojo Car Wash manager. As an individual operator, he couldn't focus enough time and thought on developing marketing campaigns that would prove effective in a dynamic market.
"Our membership growth plateaued, and we weren't able to get to the next level that we wanted to be," Shalbey explains. "SUDS did a good job working with me to get out of my brain what I really wanted – and the end product was beautiful."
The SUDS Difference
Our marketing experts marry eye-catching visual branding with a data-led strategy to drive maximum ROI. Their three-pronged approach focuses on: