Navigating Patheon
Delivering a suite of integrated business solutions is possible because of Patheon's browser-based application architecture. As a Patheon customer, you have access to the Patheon Portal and POS applications.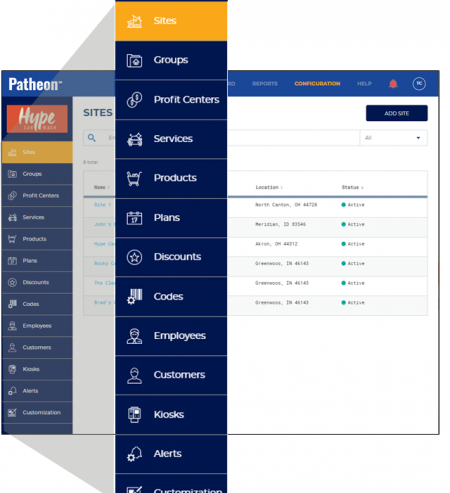 Patheon Portal
Patheon's Portal allows you to configure and manage your car wash technology platform anytime, from anywhere. Because of the platform's hybrid-cloud architecture, the Portal is available from any internet-connected device.
With the Portal you can:
Configure sites, profit centers, services, products, plans, discounts, hardware, employees and your point-of-sale (POS)
Access common reports and dashboards with real-time analytics
Receive basic hardware and software alerts and view a 7-day history of alerts for each site
Patheon Point of Sale (POS)
Patheon's POS application allows washers to process attended and unattended sales, review sales history, manage customers and manage the wash queue.
The POS experience is configured in the Portal.