Some of you might remember the days when driving from one part of an unfamiliar city to the next meant unfolding a map, plotting a course and – if you were trying to get someplace on time – hoping your plan would find success.
Today, we simply plug the address into our favorite app and choose the shortest distance. The power rests with the app's programming. All we need to do to succeed is follow the directions from point A to point B.
If only plotting a course to car wash success was the same, right? Well, it can be.
From point A to point B, follow our guide and learn the key points you need to know about building a successful car wash business.
How to Open a Car Wash: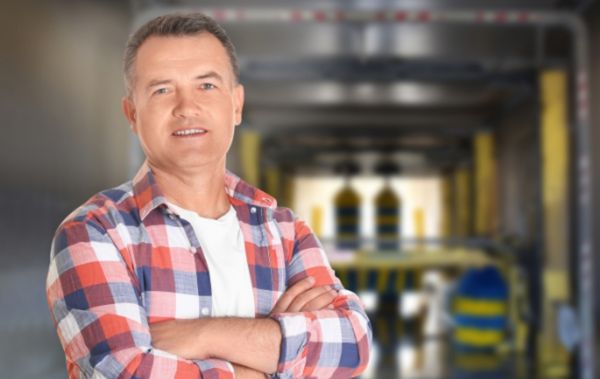 How much does it cost to start a car wash business? That depends on several factors, many of which we'll talk about in this guide, but most industry experts say car wash investors will spend between $2 and $4 million in capital, with real estate – your car wash location – factoring the most in that equation. Most investors finance start-up costs in one of three ways:
SBA 7(a) loan: SBA 7(a) loans, obtained through the U.S. Small Business Administration (SBA), are often attractive to new car wash investors because they require a lower down payment, have lower interest rates and allow longer repayment periods.
SBA 504 loan: The SBA's 504 loan program provides long-term, fixed-rate financing for major fixed assets that promote business growth and job creation. The maximum loan amount for a 504 loan is $5.5 million.
Conventional loan: Conventional loans often allow investors to borrow more than the SBA maximums and can have lower interest rates and longer repayment terms, as well.
Working with a partner like DRB® to map out a clear path toward success can help investors obtain a faster return on investment.
Build Your Car Wash Business Plan
If you've settled on starting a business and investing in a car wash, but haven't taken the leap, start by building a solid business plan. (Already invested in a car wash and want to get started on your larger business launch plan? Jump ahead to Choose the Right Car Wash Point-of-Sale Solution.)
Most likely, you'll need a business plan to show potential investors that you have a concrete plan in place to open your car wash and see it through to success. A business plan helps you weigh the pros and cons, but it can do so much more.
It can serve as your roadmap, outlining how you plan to grow your business. You can use it to measure the progress of your enterprise or share it with employees and partners to demonstrate how you've thought of everything needed to sustain success in the industry.
Take time to understand business plan best practices and apply the following components to your car wash plan:
Company description: Showcase your legal structure and org chart, and dive into the car wash services you'll offer. Summarize the details in an Executive Summary so investors can get a quick idea about what you are proposing.
Market analysis: Evaluate the local competition. Is the market oversaturated [JG1] or is there room for your car wash business? Show that you've done your due diligence. Explain why that analysis favors your plan.
Marketing and sales strategy: How will you attract prospects and convince them to use your car wash? How will your strategy engage customers and drive them to become car wash subscribers? The more you plan, the better you'll be set up for success.
Operations: From how you'll staff your car wash to the hours it will be open, explain to potential investors how your business will operate day to day once it opens for business. Show investors that you already have business licenses and permits in place or in process, and that you are ready to go.
Equipment and technology: Demonstrate how your car wash will be well-equipped with modern technology.
Financials: Walk investors through the numbers. What are your start-up costs? Operating expenses? What profit do you project in year one? Year two? Are you applying for an SBA loan? Investing personal assets? Think it through.
There's more, of course, but these business plan must-haves will get you started. The U.S. Small Business Administration's Write Your Business Plan is another great free resource.
Choose the Right Car Wash Point-of-Sale Solution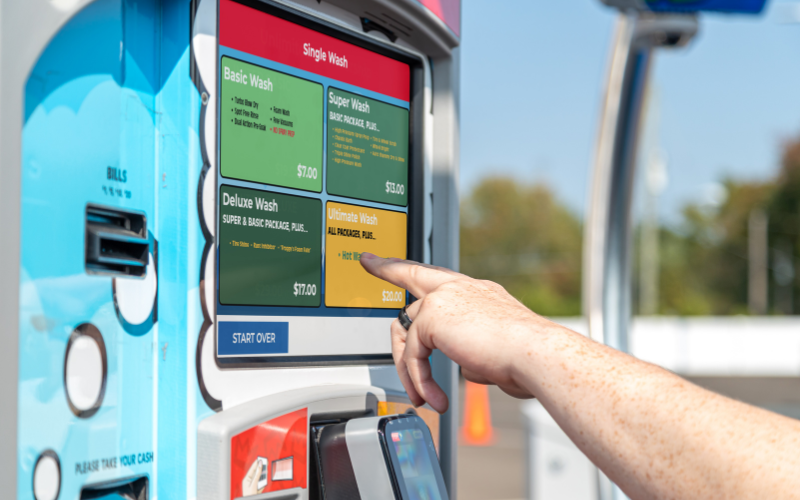 Any car wash point-of-sale (POS) software solution will process transactions, automatically calculate totals, as well as handle opening procedures, end-of-day reconciliations and provide some rudimentary reports.
We recommend choosing a POS car wash solution that automates your monthly plan memberships, provides mobile access, manages self-pay terminals and more.
Exceptional car wash POS solutions provide robust marketing and reporting capabilities, as well as e-commerce capabilities. They track labor, execute marketing efforts and manage inventory, and they can handle monthly wash programs, fleet accounts and other programs car washes typically run.
Carve out enough time in your business plan to adequately evaluate your software shortlist. If you're not even sure how to get to that shortlist, DRB is here to help.
Pick the Best Car Wash Location
Choosing the location where you will build your car wash is a critical decision. You may have only one chance to get it right – so choose wisely.
While cost considerations always come into play (is the property too expensive?) and size matters (will your property fit the type of car wash you want to build?), there are several other factors you'll want to consider before you plant a stake in the ground. Those include:
Proximity to retail: What local businesses are nearby? A steady flow of shoppers equals a steady flow of potential customers. Look for high-frequency retail, such as a grocery store, to build near.
Driver demographics: In other words, is your car wash in a location frequented by drivers with enough disposable income to support your business?
Visibility: While busy roads are great, limited access highways were people are zooming by at 55 mpg may not be ideal. You need drivers to not only see your location while driving, but be attracted to it. Does your building capture their attention?
Ingress/Egress: It's all about easy access and convenient exit points. Nothing makes customers happier.
If it takes a little time to choose the best location, that's okay. It's an important decision and one that shouldn't be rushed.
Learn More About Selecting the Right Car Wash Location
Choose the Right Operating Model
Now that you have a location, it's time to determine what car wash model you'll operate under. Typically designated as either "tunnel" or "in-bay," types of car washes come in many shapes and sizes, including: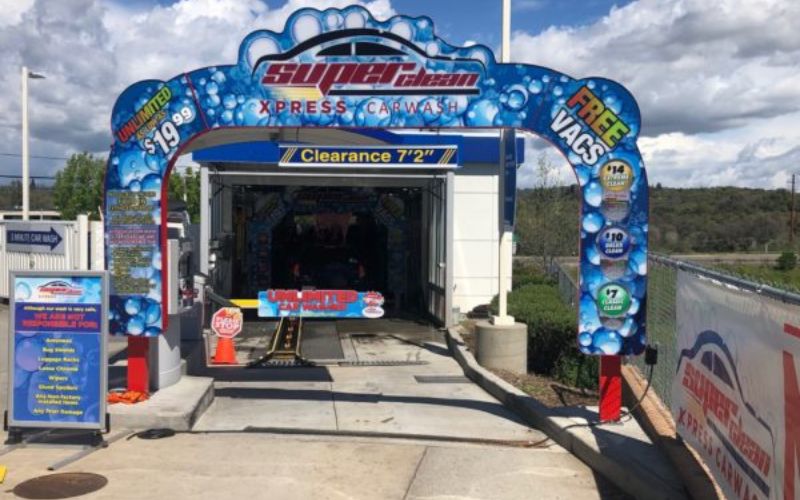 In-Bay Automatic: A type of automatic car wash where you pull inside the "bay" and the equipment moves around your vehicle to wash it. You'll often find these washes as part of a gas station and/or a convenience store, or they may be attached to several self-serve bays.
Full-service: Full-service car washes offer both exterior and interior cleaning performed manually by car wash staff. A full-service car wash is more time intensive and often the most expensive standard car wash.
Express exterior: Another automatic car wash model, this type of wash focuses on the car's exterior only. Vehicles are pulled by a conveyor or belt through the tunnel where different pieces of equipment complete the wash process quickly and efficiently. They tend to be the more affordable cousin to the full-service car wash.
Flex-serve: This operating model combines elements of the automatic and full-service car wash. Customers can opt for service tiers, from a quick exterior wash to an exterior wash and a manual interior cleaning.
Self-serve: The most familiar in-bay operating model in which customers wash their own vehicle using a spray wash and other tools provided by the car wash.
Knowing the difference between each operating model is how you'll make the best decision for your business.
Market Your Car Wash Business
Even before you cut the ribbon on your new car wash, you need to tell the general public you'll soon be open for business. To do so, you need to design an effective marketing strategy that gets the word out about your business, generates excitement and continues long after you've opened your doors.
Solid marketing strategies use both traditional advertising and online promotions, including social media, direct mail campaigns and more. They are designed to build brand awareness, differentiate your car wash from the competition and attract new customers to your business.
Many business owners will partner with a car wash industry vendor that can help develop successful strategies and campaigns. DRB's SUDS® car wash marketing services do just that, providing owners with the data and strategic expertise to drive car wash growth.
Design an Unlimited Car Wash Program

Unlimited car wash programs have helped drive unprecedented industry growth. Simply put, car wash customers pay a monthly fee for the privilege of washing their car whenever they'd like, how often they'd like – all within regular business hours of course!
Customers have embraced the concept, choosing from a tier of subscription options. For car wash owners, the unlimited subscription means predictable revenue and enhanced cash flow that can help bridge seasonal market fluctuations. They also drive customer retention and customer lifetime value, both of which positively impact a car wash's overall profitability.
Long-term success means establishing a strong monthly wash program right out of the gate. Creating a competitive or unique car wash subscription model can differentiate you from the competition, as well.
Create your unlimited car wash model
Work with a Distributor
Car wash distributors work with manufacturers and suppliers to source products you'll need for your business. Choosing a great distributor is as important to your success as all the steps above. So how do you choose? Take time to answer these questions:
Do they have a stellar reputation?
Can they supply me with the car wash equipment I need?
Do they receive positive customer reviews?
Is their pricing competitive?
Comparing answers will help you pick the distributor that fits your business model and growth strategy.
Grow Your Car Wash Business
Your car wash company is open for business and humming along. Take a moment to enjoy such an immense accomplishment – and then start planning for business growth.
Growth may come by way of expanded service offerings that cater to new customer needs or investment in new equipment or technology that helps your business run more efficiently and effectively. It could also mean developing strategic partnerships with companies like DRB that will help you turn data into insights, creating a plan that will increase overall profitability and allow you to make the next step in your car wash journey.