December 21, 2020
You've picked an excellent time to enter the car wash industry. Over the past decade, the industry has enjoyed a period of immense growth that does not appear to be slowing down anytime soon.
A huge part of that success can be attributed to the rise of unlimited wash programs. These programs have adopted the subscription model made popular by services such as Netflix: You pay a monthly fee for unlimited access to whatever the service has to offer. In the case of car washes, it allows subscribers to wash their cars as often as they would like each month.
In a short amount of time, these subscription programs went from being a foreign concept to becoming a core component of nearly every car wash business. And customers have embraced them, too, enjoying the convenience and ability to wash anytime. To achieve long-term success with your new business, you'll want to establish a strong program right out of the gate.
Download Free New Investor E-Book
Crazy as It Sounds…
Allowing customers to pay one monthly price no matter how often they wash may sound crazy. What if they wash 10 times a month? What if they wash every single day?
First, that fear is largely unfounded. Yes, you may have some customers who "abuse the system," but our data shows the average unlimited plan member actually washes 3.2 times a month. Second, it's helpful to consider the lifetime value of a customer rather than the amount you effectively make per wash.
Take for example a customer who normally washes their car once a month, spending around $10 per visit. That means they spend $120 on car washes a year, not necessarily at the same wash. If you sell that customer a wash plan that is $20 a month, that customer is now spending $240 per year on washes, and they're spending all that money at YOUR wash.
That example is really an anomaly. Our studies show that the average non-subscription car wash consumer washes two to five times a year, so our customer above would only spend at most $50 a year washing. Now they are a $240-a-year customer who is locked into using your wash.
The Many Benefits of Unlimited Wash Programs
Besides the overall lift in profit, many other benefits come with providing an unlimited wash program.
Recurring Revenue
A major challenge for car washes is unpredictability, mainly caused by weather. Having a particularly rainy season can pose a significant financial risk.
An unlimited wash program lowers that risk. It provides monthly income you can count on regardless of situations beyond your control.
This became abundantly clear early in the coronavirus pandemic when stay-at-home orders kept customers from car washes. While nearly every wash was impacted, it was much less severe for those that had unlimited wash programs.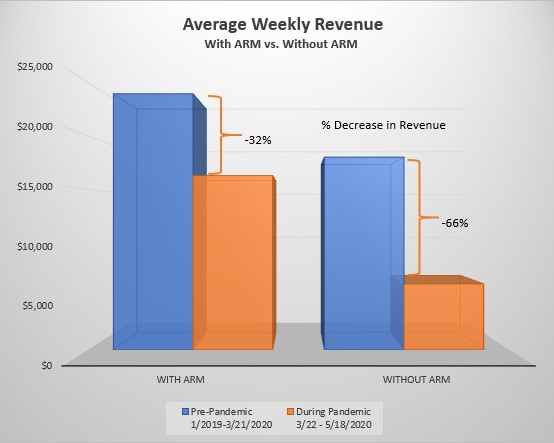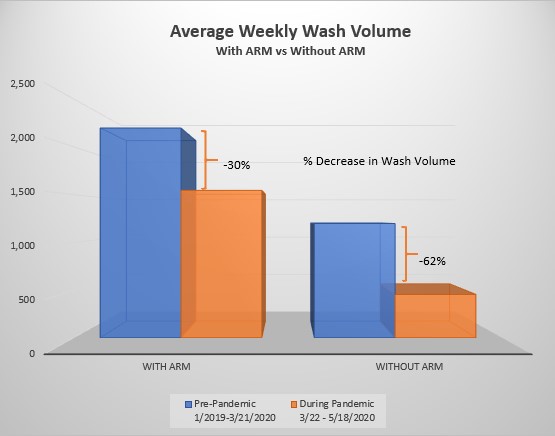 Through a pandemic, a bad weather spell or whatever else might come your way, unlimited wash programs give you financial peace of mind.
The recurring revenue is really what makes a car wash a great investment. It may be why you considered the car wash industry in the first place, and if so, you made a wise decision.
Contactless Transactions
Members love the convenience of not having to pay every time they go to get their car washed. But in light of the coronavirus pandemic, it's about more than simple convenience. Consumers want to reduce touchpoints in all public interactions. With an unlimited wash plan and automatic vehicle identification, customers have zero interaction with your staff and pay station when they get their cars washed. This also speeds up the transaction and allows for more cars to be washed… driving volume and revenue.
Group Effect
Unlimited plans create more activity at your wash, and activity breeds activity. When people drive by a wash and see that it's busy, it makes them think about getting a wash, too. So unlimited wash plans can give your single-wash sales a boost, too!
Resale Value
An unlimited wash program is essential. Consolidators and other buyers typically buy based on multiples of EBITDA (Earnings Before Interest, Tax, Depreciation and Amortization). As we've already established, an unlimited wash program can increase your earnings, so therefore, it will boost your EBITDA and the amount you can get for your wash.
Buyers also like to see the recurring revenue provided by a subscription model, especially due to the unpredictability of revenue that we already discussed.
Designing Your Program
Hopefully, you understand why an unlimited wash program is critical to the success of your business. Now let's see what a successful program looks like.
Unlimited Program Levels
A monthly unlimited wash program typically has multiple packages or levels under it. As the price increases for a monthly package, so do the services that come with that package. A basic level might just include a standard wash, rinse and dry, while higher levels may include services such as triple foam, tire shine and ceramic coating.
How many levels should you have? Our research shows that the ideal number of packages is three. When you give customers more than three choices, they often become overwhelmed and pick the lowest-priced wash by default.
For bonus information on pricing unlimited wash programs, download our new investor ebook.
Tools of the Trade
To ensure the highest level of success, efficiency and customer satisfaction with your unlimited wash program, you'll want to ensure you have the right technology solutions in place.
Point-of-Sale System (POS)
It's important to make the right car wash POS choice from the beginning because it can be difficult to transfer members if you decide to change systems down the line. Make sure the POS system is flexible enough to allow you to create multiple plan levels and customize the pricing of your plans.
The system should also include:
Automatic recharging – Automatically recharging member credit cards monthly to renew their plans.
Automatic retry – Trying declined credit cards over and over again for a specific amount of time rather than terminating the plan after one decline.
Grace period – The option to allow members to continue washing while their credit card is being retried.
Card account updater – Automatically updates customer credit card information to greatly reduce the number of authorization declines you receive.
Vehicle Recognition
Automatic vehicle recognition facilitates two of the main benefits of unlimited wash plans: convenience and contactless transactions. When a member arrives at the wash, vehicle recognition technology identifies the vehicle as a member's and automatically allows it through to the wash.
There are two key types of technology when it comes to vehicle recognition. These can be used together or separately to identify your plan members:
Radio Frequency Identification (RFID)
Until recently, RFID was the only option. In this type of system, a reader scans a tag, typically placed inside the windshield, to identify the vehicle. There are some drawbacks to this method. Some customers don't like having a sticker on their windshield and having someone reach into their car to apply it, especially during a pandemic. There are also many factors (window tints, multiple RFID tags, car technology, etc.) that can hinder tags reading.
License Plate Recognition (LPR)
This newer technology identifies plan members by scanning their license plates, eliminating the need for RFID tags. LPR also allows you to identify every vehicle with a clear, readable plate that comes to your site, not just plan members. This provides opportunities to personalize marketing messages. For instance, you could use it to show frequent single-wash customers how they could save money with an unlimited plan.
Online Store/App
Traditionally, customers would sign up for a plan at your pay station or a cashier station. Now customers can purchase plans on the internet through an online store on your website and/or a mobile app. A newer option is a Progressive Web App (PWA), which takes advantage of the latest technologies to combine the best of web and mobile apps. The great thing about a PWA is that the customer doesn't have to download it, so it doesn't take up space on their phone. They simply add the site to their home screen so they can use it like an app. And unlike an app, you don't have to publish a PWA to Google Play or the Apple App Store.
When paired with LPR, an online store, mobile app or PWA makes the unlimited wash plan signup process completely contactless. Customers don't have to interact with a pay station to sign up, and an attendant doesn't have to reach in their car to apply an RFID tag. When they purchase a plan online, they simply provide their license plate number so they can be recognized by the LPR system.
Reporting Engine
Once your program is up and running, you'll need a robust reporting engine that will allow you to analyze its success. You especially want to look at which plans are selling so you can adjust pricing and features. You can also see plan usage and members in danger of falling off due to expired credit cards.
Download Free New Investor E-Book
Secrets to Success
Like anything, what you get out of your unlimited wash program has a lot to do with how much you put into it. Here are some ways to boost the impact of your program.
Marketing
Any marketing vehicles you use to market your wash can be used to spread the word about your unlimited wash program: Email, social media, signage, direct mail, pay-per-click search advertising, pay station screens – the possibilities are endless.
Perhaps the best marketing vehicle is your people. Many car washes choose to man their pay stations and have attendants discuss plans with customers, pass out pamphlets, etc. Some choose to incentivize their attendants with commissions or bonuses.
Free Washes at Grand Opening
It's become common practice to give out free washes for several days or a week upon first opening to get people to try the wash. However, many washes fail to capture any contact information from their visitors. Make sure you at least get email addresses so you can use email marketing to promote your unlimited wash program.
First Month Discounts
Another common tactic is giving the first month of an unlimited wash plan free or at a significant discount to get customers to try it. Some car washes partner with car dealerships to provide new car owners with free membership for a month in hopes that those visitors will convert into paying members.
Encourage Washing
Conventional wisdom would say that the less your members wash, the more profit you receive. However, you actually want members to wash often, especially during the first month. Research from SUDS® shows that members who use their plan four or more times in the first month stay in the plan longer, resulting in a higher yearly revenue per customer.
Keep in touch with new members via email and text messaging to remind them to use their plans. Educate them on the benefits of washing often. By creating a habit from the get-go, you increase your chances of creating long-term members.
Get with the Program
Unlimited wash programs have played a large role in the growth of the car wash industry, and it can play a large role in the growth of your business, too. But simply having a plan won't ensure success. Using these tips to get the right pricing, tools and marketing strategies in place will help create an irresistible plan that will benefit your business for years to come.