Why Is Your Car Wash Point of Sale & Management System So Important?
Prioritizing a car wash point-of-sale (POS) solution before focusing on other car wash components might sound counterintuitive, but car wash owners who don't put the POS first often find themselves spending thousands down the road to alleviate unexpected headaches. Car wash owners who do the work upfront researching and evaluating POS solutions avoid those headaches and benefit in unexpected ways.
The Advantage of a Great Car Wash POS System
Standard POS systems manage workflows and help streamline customer payment processing. Robust systems, built to connect business and marketing solutions together and harness the collective knowledge of those systems, do so much more, including: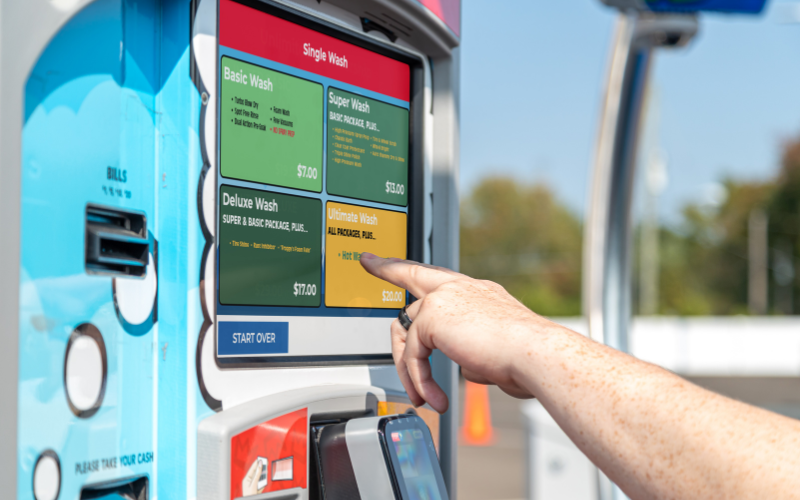 ✓ Support recurring revenue
✓ Promote customer loyalty
✓ Deliver actionable sales data insights
✓ Enhance the consumer experience
✓ Make employees more effective faster
✓ Reveal customer trends
✓ Reduce downtime
✓ Optimize business to maximize revenue
More importantly, great car wash management tools and systems are scalable, growing alongside your business, adapting and integrating as you expand services and introduce complementary software solutions.
The DRB Difference
For over a third of a century, DRB supported – and often drove – an era of unprecedented growth in the car wash industry with point-of-sale and business optimization solutions. We have continued that tradition through continuous development and acquisition.
As a result, we bring you the industry's premier portfolio of business optimization solutions to support the unique needs of each car wash business. Let our car wash experts show you which combination of solutions will help you meet your business goals wherever you are in your car wash journey.
You've got questions. We have answers. Let's talk.