October 25, 2023
Chris Friesen hails from an entrepreneurial family out of Canada who pride themselves on doing things differently. So when they learned about the express car wash concept that swept the United States, they were intrigued.
"Canada really had nothing of this type of wash, so really a ripe opportunity for us to come in and do something different in this market," said Friesen, President and CEO of Mint Smartwash.
After several months of research, they fell in love with the business model and the community of people in the industry, so they established Mint SmartWash, opening the first location in Lethbridge, AB, in 2015. By 2023, they had opened six locations with plans to add another 25-30 washes over five years.
The Challenge
Such an aggressive growth plan required more than the average point-of-sale (POS) system. They needed a system that would allow them to scale, deliver actionable data insights and simplify processes for employees. They needed a partner who understood their vision and could provide the customer service and support they needed for their journey.
The POS system Mint chose for its first location did not live up to those requirements. It was difficult to access and manipulate data for informed decision-making, and the technical support fell short, prompting Mint to seek a new partner for the future.
The Solution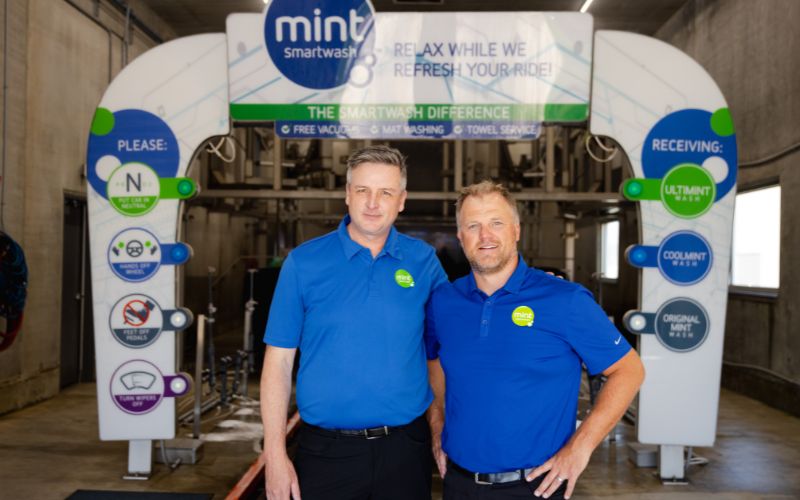 For their second wash, they chose DRB®. The Mint leadership was impressed by DRB's people-centered culture, customer service and overall performance.
"You have a true, true business partner that's willing to put in the time and willing to understand your unique challenges, cause we all have unique challenges," Friesen said of DRB. "They really take the time to make sure you're looked after and your priorities matter."
That dedication led Mint to become an early adopter of Patheon®, DRB's new, innovative POS platform, which was perfectly suited to accommodate Mint's goals.
The Results
Patheon addressed a number of pain points Mint had experienced so far in their journey, especially regarding technical support and data access.
"I would say in my opinion the DRB Patheon's system, the ability to manage data, the analytics, the amount of data it can provide you on a couple-click basis, I think that's really the critical piece that sets DRB/Patheon separate from its other competitors," Friesen said. "Patheon is light years ahead."
Patheon further supported Mint SmartWash's goals in four key ways:
Operational efficiency
Mint is able to use the deep data insights Patheon provides to make immediately impactful changes. Unlike other POS systems where you have to submit a ticket and wait for changes, Mint can fully configure discounts, pricing adjustments and more in real-time.
"Patheon gives you the ability to pivot on the spot, make great decisions and take better action on what you see in your business," said Jim Gunderson, Vice President of Operations for Mint.
Moreover, Patheon is simple to use and administer, increasing employee efficiency.
Scalability
Mint can onboard new locations quickly with rapid cloning. Data, such as new membership information, is replicated to all locations within seconds.
"When we're planning strategically, we're not thinking today about just six washes, we're thinking about 25 and 30 washes, how do we report, market, train, and deliver excellence in customer service," Gunderson said. "Patheon allows us to do that."
Revenue growth
Patheon not only enables growth in terms of business size but also in revenue growth.
"With Patheon, we've seen a tremendous growth in our membership base," Friesen said. "We've grown over 40% over the last trailing 12 months."
Customer experience
Friesen attributes a large part of that membership growth to the enhanced customer experience Patheon provides. From the user-friendly interface at the XPT® pay station to the ability to manage memberships online via Patheon's Essential Web App, Patheon enhances customer satisfaction.
"From an operational perspective, our goals are simple – flawless execution – I need clean cars and satisfied customers," Gunderson said. "Our customers need to have a seamless experience – clean, dry and shiny in five minutes or less. Patheon allows us to do that while understanding exactly how we're performing as a business."
---

---
The Future
Mint's vision is to become the leading express car wash in Canada, with plans to add 25-30 new car washes and beyond.
"We see Patheon as the process and the path forward and I think really that comes down to a lot of the analytics software, support, the background that we need," Friesen said. "It's really, we see it as the partner for the future."
Chris Friesen encourages fellow express car wash operators who are considering DRB and Patheon to move forward.
"What are you waiting for?" He said. "This is the leader in the space. Do you want to be a leader? Do you want to be able to use your data? Do you want to have a good customer interface? Do you want to have good support when you need it, when you have challenges, because we all have challenges? At the end of the day, you need a strategic partner, and that's the difference with DRB and the system they're putting in."