Maximizing Revenue with Different Types of Car Washes
Post-pandemic, consumers are dumping the bucket of hot water, soap and sponge and letting one of the more than 60,000 car washes in the U.S. scrub the family car. For car wash entrepreneurs, that translates into a reliable stream of customers itching to have their vehicles gleaming again – the core component of steady cash flow and healthy profit margins.
But building a successful car wash business takes more than tapping into available demand. It's choosing the perfect location, identifying your target market, understanding your competition and knowing what resources are available.
Success also relies on choosing the right car wash operating model. Does your target demographic prefer to sit in their vehicle while the car wash does all the work? Or would they rather have more control over the process? Maybe somewhere in between?
In this article, we'll review each car wash type, the location where it might work best and speculate on how much it will cost to operate each type.
5 Most Common Car Wash Types
As the car wash industry grows, so do car wash operating models. While both the tunnel and in-bay models remain the most common car wash types in the industry, full-service and flex-serve are can be viable alternatives in some situations. While the goal of all these models is to clean vehicles, they are vastly different. To make the best decision for your business, explore the pros and cons of each, and determine which best meets the goals of your business.
1. Tunnel Car Washes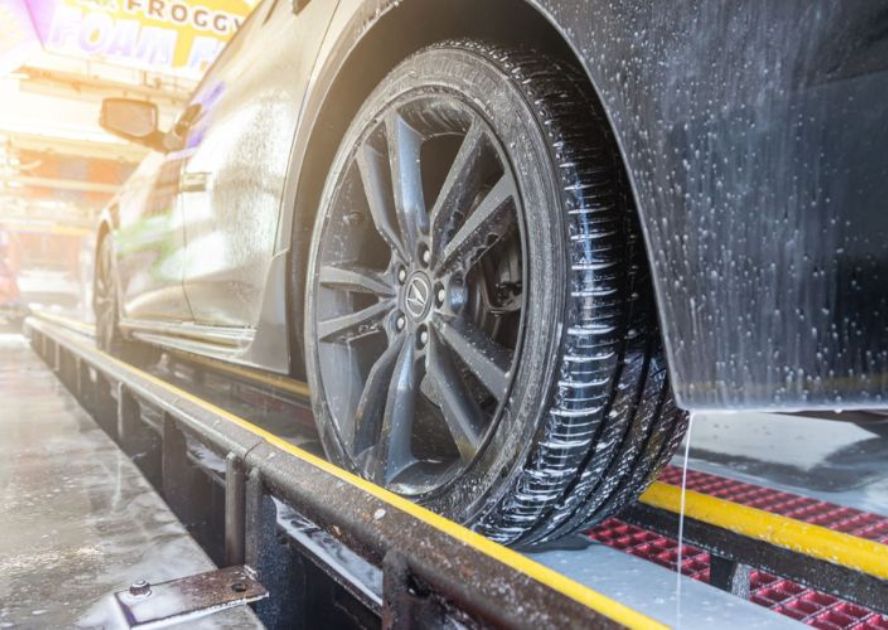 Also known as an express exterior (EE) or conveyorized wash, this wash type uses a conveyor or belt to move vehicles through a tunnel while specialized equipment completes the wash process. They often are the only service offered at one location, but you can find some connected to larger service areas that include a quick lube, self-serve bays or in-bay car washes.
Key Characteristics and considerations:
High volume  – Tunnel models can wash multiple cars at the same time, allowing an express exterior tunnel to wash up to 200 cars an hour.
Faster service  – The ability to wash multiple cars faster results in significantly shorter wait time, boosting a positive customer experience.
Attended  – At least one employee will help guide vehicles into the tunnel. Some tunnel car washes also man pay stations to help sell unlimited wash plans.
Perfect for plans  – Unlimited wash plans are nearly mandatory for tunnel car wash. Most also offer free use of vacuums, especially for unlimited wash plan members.
Location information  – Tunnel models work well in almost any location, including city, suburban, rural and commercial areas. For this reason, knowing your audience becomes an important component of your overall business plan.
While tunnel car washes typically require a bigger lot, advanced car wash tunnel equipment can now effectively wash cars with a tunnel as short as 35 feet. The average length of most tunnel car washes is about 120 feet. This makes a "mini-tunnel" car wash a viable option for some investors. Some operators are even converting their existing in-bay car wash types to these smaller conveyorized tunnels.