June 25, 2020 | Harold Guthrie
The coronavirus pandemic has affected nearly every business in the United States (and beyond) in some way. The level of impact on any given business depends on when and how long their state was shut down, whether they were deemed to be an essential business, etc. These factors were largely out of owner's/operator's hands.
In car washing, though, there has been one determining factor that owners did have control over: Whether or not they offer unlimited wash plans.
We analyzed operator data from the past few months to determine if having unlimited wash plans made a difference in a wash's volume and revenue during the pandemic. It turns out, the answer is a resounding "Yes."
ARM'd for Success
To determine the impact of unlimited wash plans on car wash businesses during the pandemic, we compared DRB operators who have plans through the SiteWatch® Automatic Recharge Module® (ARM®) and those who do not.
Looking at all sites (full serve and express exterior), we found that non-ARM operators suffered a 66% drop in revenue while ARM operators sustained a far lower 32% decline. The differences in volume decreases were similar: 62% for non-ARM operators versus 30% for operators with ARM.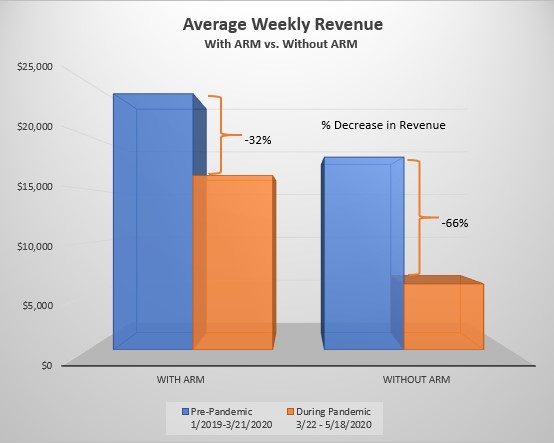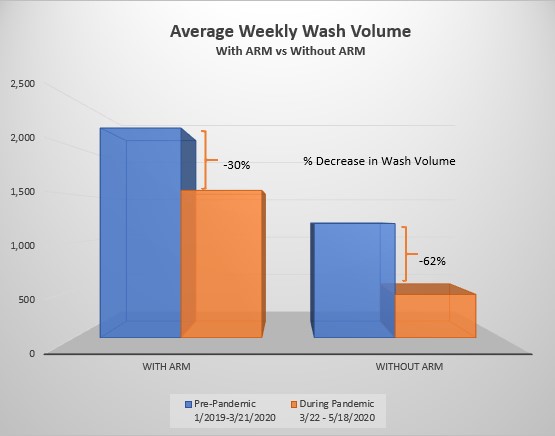 Put another way, ARM operators washed 239% more cars and earned 165% more revenue during the pandemic than washes relying on retail sales only.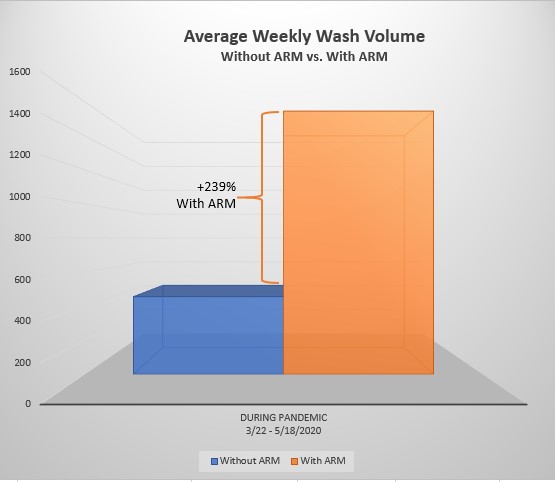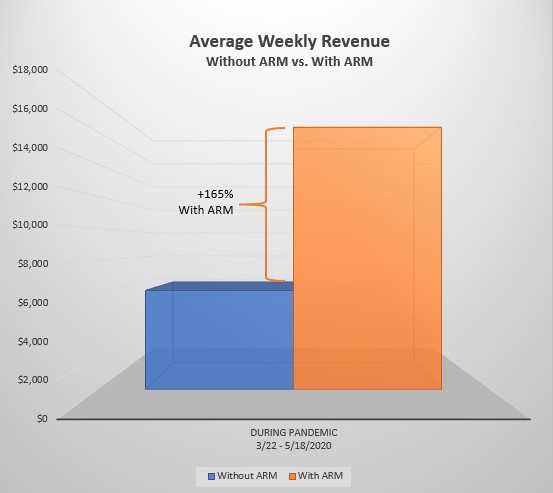 The reason behind this is pretty simple. As stay at home orders reduced street traffic, car washes experienced a large drop in retail/pay-as-you-go customers. Washes with unlimited wash plans that were allowed to stay open continued to recharge members monthly, earning recurring revenue.
The Express Exterior Factor
It shouldn't come as a surprise that express exterior sites with ARM have been even more insulated from the effects of the pandemic. Consumers are gravitating toward transactions that require few touchpoints and limited human interaction. An unlimited wash plan offers the ultimate contactless experience, especially when license plate recognition is utilized.
As a result, full-serve sites, especially those without unlimited wash plans, suffered larger decreases. Full-serve sites with ARM lost 46% of their volume and 57% of their revenue during the pandemic, while those without ARM saw their volume reduced by 67% and revenue by 71% during that time. Meanwhile, express exterior sites with ARM lost 28% of their volume and 25% of their revenue during the pandemic. Non-ARM sites lost 54% volume and 52% revenue.
The Value in Lifetime Value
To some car washers, especially those just entering the business, unlimited plans may not make sense on the surface. You take a customer who once paid $10 to wash their car once a month. Now they are paying $20 per month and can wash whenever they want. If they wash more than twice, you're losing money, right?
Let's look at it another way. Say your hypothetical retail customer above washed once a month and so spent $120 a year at your wash. By converting that customer to a member paying $20 a month, you are now earning $240 a year on that customer.
When you consider that the average unlimited plan member actually washes less than two times a month, you can see where this pays off. And because it's recurring revenue, it greatly reduces the volatility caused by weather and even the occasional global pandemic.
Group Effect
Another nice little side effect of unlimited plans is that they create more activity. Activity creates activity. When people drive by a wash and see that it's busy, it makes them think about getting a wash, too. So unlimited wash plans can even give your retail sales a boost.
This is especially important when you have something like the pandemic going on or even just iffy weather.
Planning for the Unexpected
Unlimited wash plans help you maximize your income in the good times and serve as kind of an insurance policy during the bad times. If you have not yet embraced unlimited wash plans, or perhaps you are just starting out in the industry, we hope this information has helped you understand how these plans can help your business.