November 15, 2023
The Challenge
Expansion is one of the hallmarks of a successful car wash. But as one U.S. chain found it's not without its challenges. With 11 sites and counting, they found data collection to be tedious. And more sites means more employees, so training has become an increasingly important and time-consuming task.
The Solution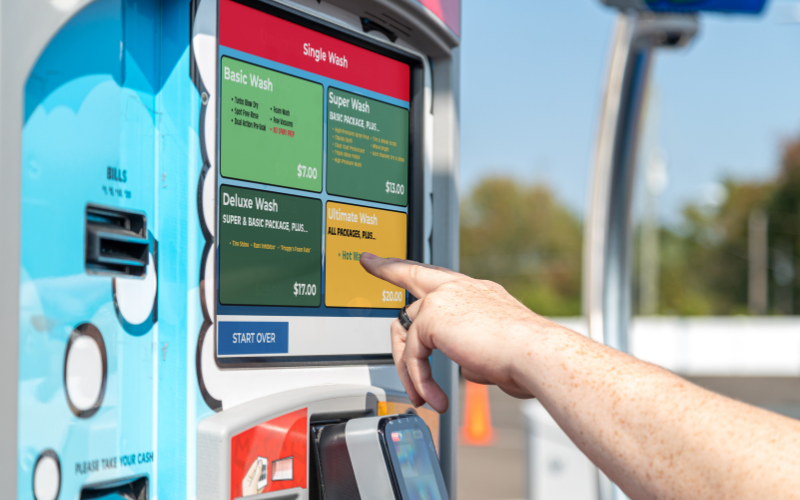 As a DRB® customer for several years, the chain was introduced to Patheon®, DRB's powerful car wash management and point-of-sale platform. They were impressed by Patheon's data capabilities and made the decision to convert to Patheon from their existing POS.
As with any new system, the initial transition presented challenges. But DRB was there every step of the way to ensure the success of their implementation.

"DRB was exceptionally supportive in facilitating our onboarding process with Patheon, and we view DRB as our partner for the future," said the wash's Chief Operating Officer.
The Results
Patheon has signifcantly contributed to operational efficiency and business expansion of the car wash chain with its advanced capabilities:
Saved Retracts – Patheon's touch queueing system allows loaders to save members' retracts. This has increased wash throughput and quality while preventing potential vehicle damage. It's especially helpful with new employees who may accidentally overlook retracts.

Data – The business can visualize the data easily without having to do a general download to get and manipulate the data. They can now compare multiple sites at a time across multiple periods of time. The quick visualization helps them see trends and remain agile.

Training – The wash's management team appreciates how intuitive and easy to learn Patheon is, saving them considerable time in training new employees. Staff screen design makes it easy to learn the XPT® payment kiosk workflows and Patheon's touch queuing system.

Configurability – Patheon allows them to modify products, plans, promotions and prices swiftly and independently. They don't have to schedule and wait for an appointment with technical support to have those changes made for them. Previously, a change like that could take four to six weeks. If the change was a price increase, that type of delay could cost them thousands of dollars.
Moving Forward
The leadership team is delighted with the system and how it has impacted their operations. They believe that Patheon holds immense potential, and they look forward to continuing their growth with Patheon and DRB.