Features
Touchscreen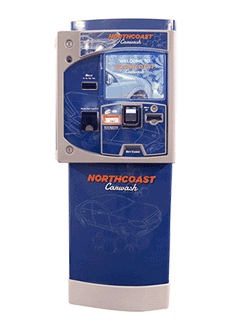 As user-friendly as ever, the touchscreen on this version of the XPT is a larger, 15" optically bonded display.
Marketing Support
Facilitates marketing efforts by selling unlimited plans and prepaids, displaying customized messaging and redeeming offers.
Payment Handling
Accepts numerous forms of payments, including credit cards, cash, coins, prepaids, barcodes/Smartcodes®, etc. Quick and secure credit card processing with EMV is available. Optional local approval mode (for magnetic stripes) or Store & Forward (for EMV) allows transaction processing during internet failures.
Security Features
Includes multiple locking points with cash secured behind a separately locked door. XPT 5+ also features an ultra-tight bill validator, break-in resistant glass and a built-in alarm and camera. It's anchored by multiple steel tubes in concrete and has a steel plate enclosure. Its solid-state memory backup keeps your information safe, as well.
Serviceability and Supportability
Designed so you can easily identify connector locations, eliminating incorrect connections. It's also easy to view internal components with battery backed-up LED lights inside. Bill acceptor and firmware updates are performed remotely, and you can receive alerts about any potential issues with your XPTs.
Specs
Standard XPT with plastic shroud and MSR: 32" H x 27.5"W x 22.5"D
Customization
Completely brand your XPT with customizable decals and base wraps to match your logo. See sample designs.