October 14, 2022 | Julie Graff
Each season of the year provides different opportunities for car wash operators to deploy creative marketing campaigns. From major national holidays to wacky daily observances, there are plenty of ways to grab the attention of drivers in your area. Hopefully, this post will inspire you to create your own unique campaigns.

Plan, Plan, Plan
The key to delivering successful car wash marketing campaigns is planning. You want to make sure that no opportunity slips through the cracks and every part of the campaign is ready to go on time.
It's particularly important that you plan out any pay station screen changes, price changes, coupon codes, etc. The earlier you can request these of your point-of-sale provider, the better. We recommend scheduling a consultation with your vendor 4-6 weeks before your promotion to ensure timely delivery.
If you're planning any print, radio or television advertising, you'll also want to make sure you're aware of the deadlines for securing advertising time/space.
Think Beyond the Obvious
Every car wash has promotions for Black Friday, Mother's Day, Father's Day, etc. But there are a number of other holidays and events throughout the year that you can take advantage of.
You don't have to provide a discount for each one. Some events might simply make great social media fodder or an excuse for a fun activity at your wash. For example, is one of your local sports teams doing well? Have your staff dress up in team colors or decorate your wash.
Winter
Otherwise known as "Road Salt Season" in some areas, this can be prime car washing time. It doesn't take much to convince people to wash their cars, but to ensure they pick your wash, tout its unique benefits. Be sure to promote your undercarriage wash and, of course, this is the ideal time to encourage unlimited plan memberships.
Even if you're in a region of eternal summer, there are plenty of marketing opportunities with the holidays. It's a good time to remind customers that gift cards and wash bundles make great gifts!
Key holidays/events:
Christmas
New Year's
Fun at Work Day
Groundhog Day

NFL Championship
Valentine's Day
President's Day
Spring
As the road salt gives way to pollen and bugs, you should still be washing a significant amount of cars in the spring. Use your social media channels, blog and on-site signage to educate customers on the importance of frequent washing to prevent damage from these factors.
In April, Earth Day provides an opportunity for you to tout your environmental friendliness. This is also another prime gift-giving time with Mother's Day in May.
Key holidays/events:
Employee Appreciation Day
St. Patrick's Day
April Fool's Day
Easter
Earth Day

Kentucky Derby
Star Wars Day (May the 4th Be with You)
Cinco de Mayo
Memorial Day
Summer
You're probably starting to notice a bit of a slowdown in business, but there are many ways to drum up extra business. Father's Day in June is another great time to boost gift certificate sales. Independence Day is also a fun holiday to build promotions and fun events around. Consider holding a barbeque with free hot dogs.
With kids returning to school in late August, you could partner with schools and organizations to hold fundraisers. This is a great way to get people to try your wash for the first time and cultivate goodwill within your community.
Key holidays/events:
National Donut Day
Flag Day
Father's Day
Independence Day

Back to School
National Dog Day
Labor Day
Fall
Fall is traditionally the slowest season for car washes, but drivers should be concerned about sap and falling leaves that can muck up their cars and even cause damage.
This is another good chance to educate your customers, as Northeast-Ohio based Rainforest Car Wash did on their Facebook page: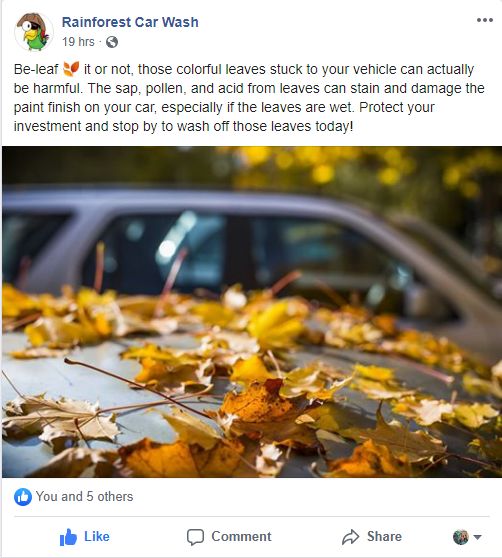 A big boon for car washes during October have been the increasingly popular haunted tunnels. This is a fun way to drum up some extra business during this traditionally slow season in many areas.
Key holidays/events:
Thanksgiving
Black Friday/Small Business Saturday/Cyber Monday
Have Fun
These are just a few ideas. If you take time to think about it, you can probably come up with many more. The key is to have fun with it. That fun spirit will be contagious and provide memorable experiences that create loyal customers.