Jon Stites and Chad Hirschfield never intended to be car wash owners. As long-time business partners, their expertise was in custom home building and commercial real estate, respectively.
That all changed when they purchased a four-bay self-serve car wash in foreclosure. The ROI they achieved, along with the ability to obtain SBA loans with a lower down payment, encouraged them to buy additional locations.
The venture proved to be so successful that they are now 100% in the car wash business with 16 locations throughout Northern Colorado and Denver.
The Challenge
They added the bulk of those locations thanks to a conversation Hirschfield had on a golf course with a friend who happened to be the grandson of Schrader Oil's founder. They came up with the idea to have Signal Wash take over the unattended, in-bay automatic (IBA) car washes at 11 Schrader Oil-owned gas stations.
"We manage and take care of every aspect of the car washes," Hirschfield said. "So that's how we're up to 16 locations today."
While it proved to be a great way to expand the business, managing the Schrader Oil washes presented some challenges. Stites and Hirschfield were managing all their car washes with just one additional person in the field. They also found bookkeeping to be tedious and time-consuming.
The Solution
A car wash equipment vendor told Stites and Hirschfield that DRB In-Bay Solutions ( formerly Unitec) was developing Director®, a cloud-based enterprise management system. Director provides robust centralized reporting for multiple sites, supports multi-site programs ( fleet accounts, gift cards, etc.) and provides real-time visibility of car wash equipment status.
Signal Wash became an early adopter of Director, second only behind a large, national C-Store chain.
"We found it to be intuitive and found the support from everyone to be exceptional," Stites said.
The Results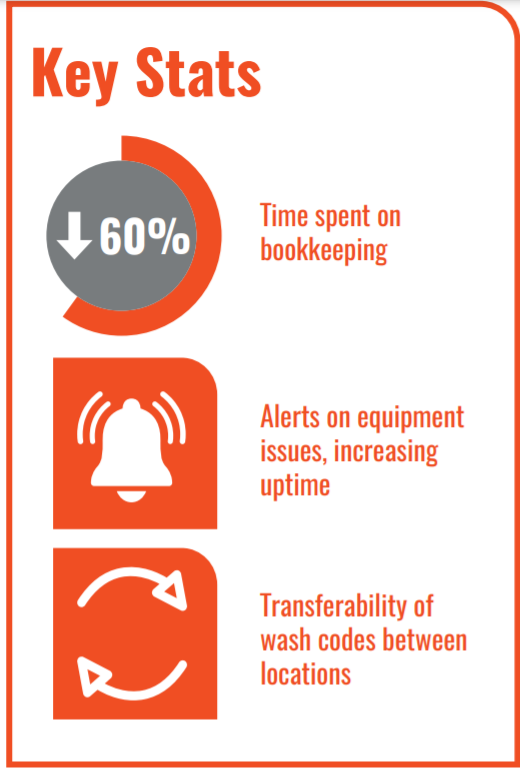 With Director, they only have to login once to see statistics for all their IBA sites. Director's real-time reporting allows them to see if any washes are down and if wash counts are off. Director has allowed them to cut their time spent on bookkeeping by an estimated 60%, allowing them to continue running 16 sites with a three-person staff.
And thanks to Director's alerts, the team knows within five minutes if there are any equipment issues. This is critical in a C-Store car wash environment because operators can't rely on in-store personnel to know if the wash is working properly. These alerts allow them to increase uptime, which in turn increases revenue. Additionally, keeping washes up and running is one of the things that helps differentiate them in the market.
"We think we have one, maybe two shots at every customer," Stites said. "If we've let you down twice, you probably aren't coming back."
The Future
Signal Wash has just scraped the surface of the Director's capabilities. The wealth of data it provides can help them make adjustments to boost profitability. They already use Director to monitor how their wash packages are selling. Once they notice that more than 50% of their sales are for their top package, they know it's time to increase the price. In the future, they hope to use the information about peak wash times to offer discounts that drive traffic during slower times.
More than that, though, they have seen so much value in Director, they have ordered the WashPay® by Unitec unit, which allows them to roll the self-serve bays into Director as well.
Overall, Stites and Hirschfield feel Director provides great value for the cost.
"Director is a huge compliment to what we do on a day-today basis," Stites said. "Fundamentally, we wouldn't be able to run the volume of locations and business that we do with the skeleton crew that we run without Director."
Get more information