September 10, 2020 | Julie Graff
In today's business environment, it's no longer a question of whether your car wash should have a website and a social media presence. It's a given.
But simply having a site and social media profiles isn't enough. Your site needs to be easy to find via internet search, and your web presence needs to be engaging.
When you're running a busy wash, all of that often takes a backseat. But if you can carve out some time for it, you can drive more car wash traffic and cultivate consumer loyalty.
There are three areas where you should concentrate your efforts to get the best results: Local SEO, your website and social media.
Local SEO
Search Engine Optimization (SEO) refers to the actions you can take to make your website rank as high as possible in search engine results. Local SEO, then, refers to the things you do specifically to rank when a local search is performed.
Local SEO is arguably one of the most important aspects of a successful web presence for any business that needs to attract business from local customers. Think about it: If you were looking for a landscaping business near you, what would you most likely do first? You'd search on Google or Bing, right? The same is true of your car wash. If someone isn't sure where a nearby car wash is, they will likely search online.
When you apply the following Local SEO best practices, you can achieve higher search engine rankings. In Google specifically, you will increase your chance of being featured in the "Snack Pack." This is where Google displays the three most relevant queries for a local search.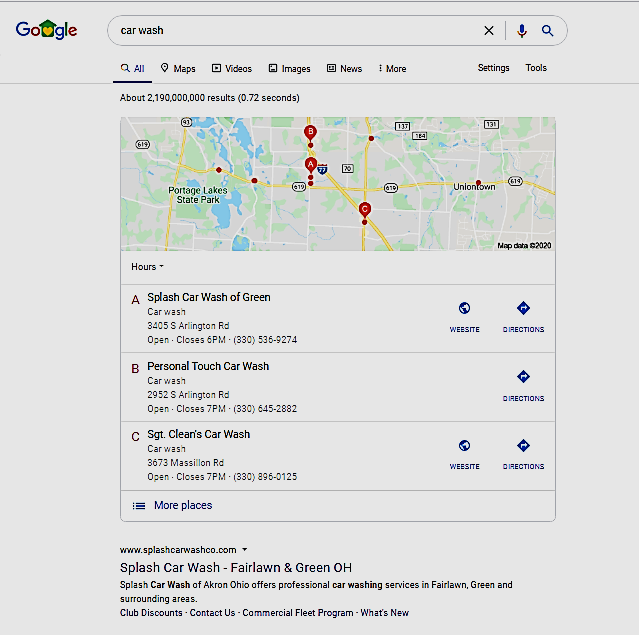 These results appear above the traditional organic search results, so appearing in this area makes it more likely a consumer will click on your site.
To rank high in local searches, you'll want to focus on a few key areas:
Google My Business
A Google My Business (GMB) listing is what comes up if you search for a specific business name on Google. Even though 46% of all Google searches are local, 56% of local retailers haven't claimed their GMB listing, according to Ahrefs.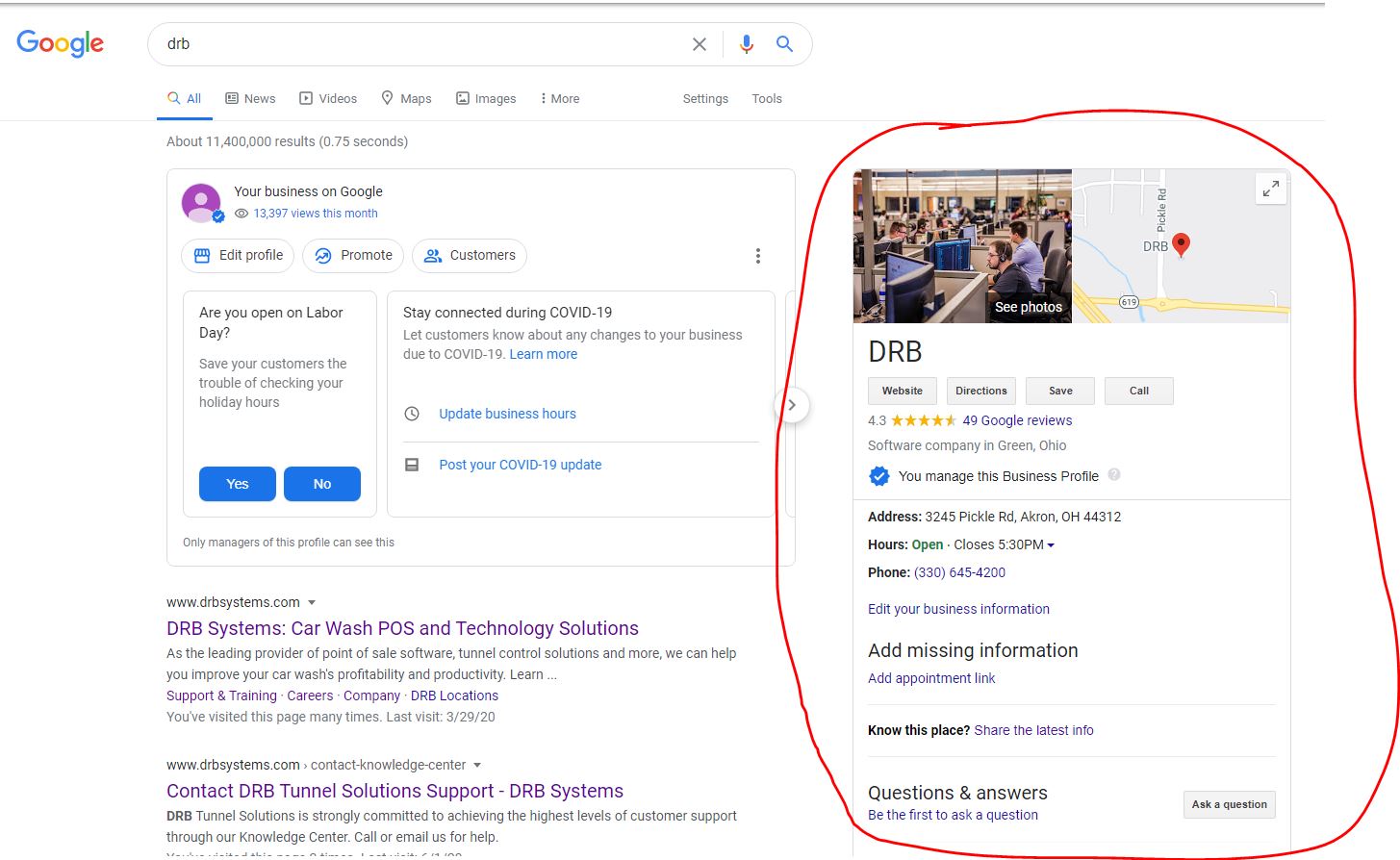 The first thing you want to do is claim or create your GMB listing if you haven't already. To do so, go to https://business.google.com/create
Search for your listing. If you find it, click on it and select to manage it. If you don't find it, create a new one. You will have multiple listings if you have multiple locations.

You then want to optimize your listing. You should complete as many of the areas in your listing as possible with careful attention to the following areas:
Address – It's important to enter your business address EXACTLY as it appears on your website and across the web. For example, if you spell out the word "Road" in your address on your website, don't abbreviate it on GMB.
Map - Make sure your location is correct on the map so that online navigation will accurately direct consumers to your location. If you see that it's not correct on the map, drag the pin to the appropriate location.
Category – This should be set as "Car Wash." If you have other services, you can add more categories.
Website and Phone Number – Again, the phone number should be in the same format as it is on your website.
Photos – Show how awesome your wash is with engaging photos. Include photos of your smiling staff.
Reviews – Google allows customers to leave reviews. Check these regularly and respond appropriately.
Although Google is the biggest search engine, you'll want to claim your Bing Places listing, as well.
Local Citations
Links to your site from other high-authority websites are also a big signal to search engines that you deserve to be ranked. You'll want to make sure that you are listed in relevant business and local directories, such as industry associations and chambers of commerce.
Whitespark has a list of the top 50 business directories you may want to consider.
Your Website
You'll also want to optimize your website for Local SEO. If you have multiple locations, create a separate page for each location, providing the address, hours, a map to the location and any specific details that make that location special. Try to include the city name in the URL and in the main heading of the location page.
Other Website Factors
Beyond optimizing for local search, you want to make sure your site is optimized for general SEO and that it provides a good user experience.
SEO Best Practices
A large part of SEO is keyword research and content optimization. There are a number of free keyword research tools. You may want to start with Google Keyword Planner. Look for keywords with a high volume of searches and low competition.
When you've selected your keywords, you want to optimize each page of your site for the most relevant set of keywords, using them in the title, headings and body copy of the page. Be careful not to "keyword stuff" the content, though. Use the keyword phrases naturally throughout the page.
You'll also want to optimize the metadata. You may need your webmaster's help with this if you're not sure how to change this info.
The meta title is the most important because it impacts search engine rankings and becomes the link people click on to go to your site from the search results. The other area you'll want to optimize is the meta description. It doesn't impact search rankings directly, but it can increase chances people click on your results. It should also be compelling, describing what visitors will find when they click through to your site.
This is how these elements appear in Google search results:

You may also want to consider adding a blog to your website. Regularly adding new content through a blog is good for search engine rankings. It also sets you up as a trusted authority and gives you something else to share on social media.
Usability
You want to make sure your site provides a good and seamless experience for your visitors. Don't make your website visitors wonder where to go to find the information they are seeking. Your website should be intuitive and simple to navigate.
Check regularly for outdated information and make sure your pricing and wash package descriptions are clear and accurate. Likewise, you'll want to check for broken links.
Social Media
Social media may not seem important given all the other responsibilities on your plate. However, done right, social media can help you build a loyal community and introduce you to new potential customers. Remember, you don't need to be on every social media platform. You want to focus on the one or two social networks where your audience hangs out the most.
Optimize Your Profiles
Like the GMB listing, you want to make sure your profiles are as complete and compelling as possible, paying special attention to these areas:
Images – Add attractive profile and banner images. The profile image should be your company logo. The banner/hero image should be something eye catching. The car wash provides a lot of opportunities for interesting images: a car going through the wash, your triple foam curtain, clean and shiny cars, etc. You can even use a video in your banner.
Vanity URL – Most social networks will provide you with a URL full of random characters. If possible, change this to your company name or a variation of it. Try to make all your social network handles/URLs uniform.
Description – Write a complete description that is keyword rich to help so you can easily be found in social media searches.
Plan, Plan, Plan
One of the hardest parts about social media management is keeping up with it. You need a plan for who will be responsible, what and when they will post and how they will respond to comments, reviews, etc. If you have a large organization, you may consider a tool such as Buffer or Sprout Social to help schedule posts and keep on top of feedback.
When and What to Post
If you decide to engage in social, you'll want to post regularly with a variety of relevant content.
How often you should post and when depends on the social network and your audience. There are many resources available online that can provide best practices. Those are all great starting points, but you'll want to monitor how your posts perform and make adjustments accordingly. For instance, if you find your posts are getting many impressions or much engagement, you may want to limit how often you're posting or try different times.
Thinking of things to post can be a challenge. Be careful about over-promoting your business. It's fine to post the occasional discount or educate visitors on your products and services, but remember that most people are on social media to engage and be entertained.
Some businesses simplify this process by creating a "theme" for each day of the week. Here is an example of a weekly schedule you could implement:

From the Internet to Your Wash
Your web presence can be one of your best tools for attracting new business and re-engaging your past customers. By making sure your web presence is top-notch, you can make a real impact on your bottom line.