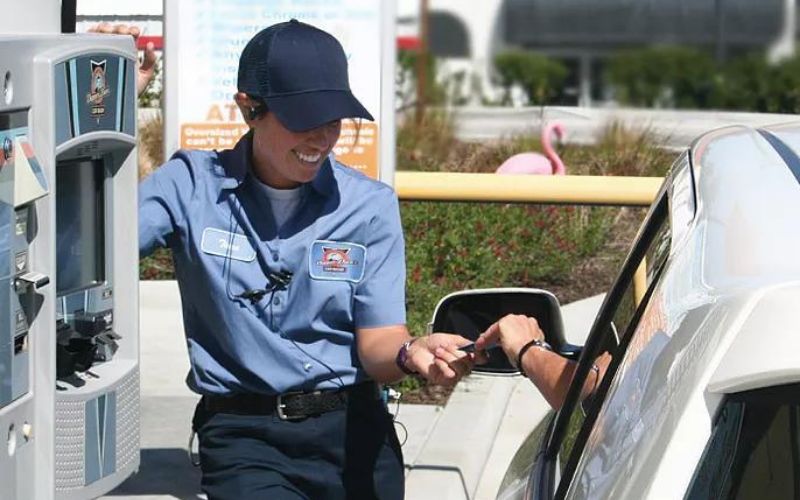 DRB® University not only helps you learn more about our products but also allows you to tap the knowledge of trainers and operators who have years of experience in the industry.
That was what Ryan Kuhns experienced when he attended back-to-back DRB University sessions. Ryan is the president of Dapper Dan's Car Wash, an Express Exterior in Santa Clarita, CA. He decided to attend DRB University because he wanted to explore the full capabilities of his system.
Ryan took a basic DRB University course that went over common functions such as entering and editing sales transactions, sales and labor reporting, making the most of Monthly Recharge Program and simple system troubleshooting. He then attended an advanced session that covered more complex troubleshooting, use of TunnelWatch® software, understanding the terminals and hardware, car wash accountability, Xpress Pay Terminal® maintenance and troubleshooting and site contingency planning (determining what to do when your system goes down).
Experience and Data You Can Trust
Ryan found it valuable to learn best practices from knowledgeable trainers with over 20 years combined experience in the industry.
"It's really important they [the trainers] have served in other capacities and are truly able to understand the workings of the hardware and software," he said. "You can't teach that to an instructor; it has to be experienced."
He also enjoyed sharing ideas with the other car washers during the open forum discussions during the training.
"It's nice to see what other people are doing that works," Ryan said.
Through the training, Ryan gained an appreciation of the history of DRB Tunnel Solutions and how the love of numbers and accounting is deep within the company's foundation. He found the reporting function interesting, particularly how sales and labor data is reflected on various SiteWatch® reports.
Seeing Is Believing
Ryan's DRB University experience also included a tour of the DRB's headquarters in Akron, Ohio. Ryan was impressed with the size of the Knowledge Center – the number of technicians on the floor and the workflow of live calls.
"I'm confident my calls are handled by skilled and professional technicians," Ryan said.
Send Your Crew
Ryan recommends that owners, operators and upper-level site managers would benefit most from DRB University. He suggests that car washes send team members to DRB University after they've had about six months or more experience using SiteWatch. That span of time will expose the team member to enough practice in the workflow and sales at the wash. DRB University will provide additional information to fill in the blanks and hopefully make life at the wash easier.
He believed in the power of the training so much he sent two assistant managers to a DRB University session. His managers used knowledge learned at DRB University to supplement their experience and training at Dapper Dan's. They took away practical tips on how to communicate customer information using SiteWatch.
Ryan said his training was "just about as much information as you could ingest in 4 days. Keep up the good work!"
Get more information