November 21, 2023
Steven McBee, owner of McBee's Coffee and Car Wash, knew his unique business model was going to require special technology. With services ranging from an express car wash and vacuums, a drive-through coffee service and a dog wash, McBee's needed a solution that would bring this entire business model into one seamless customer experience.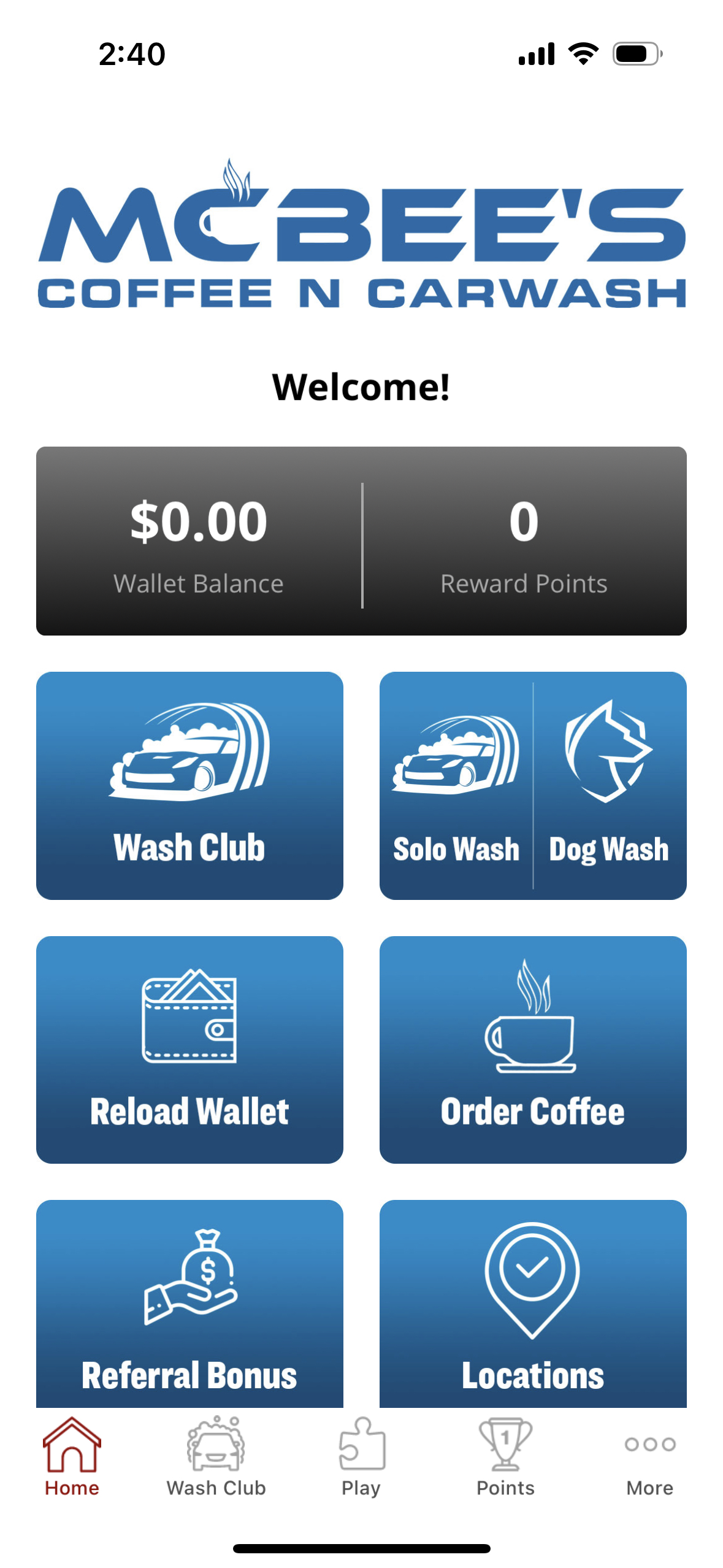 "I needed to find a technology that was flexible enough where we could figure out our coffee concept along with our car wash, and Beacon Mobile was able to answer all of that." – Steven McBee

McBee's launched their branded native mobile app from Beacon Mobile with the opening of their first site. They now use the application across all seven locations. By offering an appealing app-exclusive deal on membership as well as a $5 wallet credit for anyone who downloads the app, McBee's has seen over 9,100 customers adopt the app thus far.
Incentivizing Membership Sales
McBee's has found the Beacon Mobile app integral in membership growth. McBee's actively incentivizes customers with an app-exclusive membership special offering 30 days free. This deal has encouraged app users to enroll in a membership, and McBee's has sold over 3,000 memberships in the app. In addition to the traditional car wash membership, McBee's members also get a complimentary standard coffee with
every visit and unlimited dog washes. The app allows for a member to experience these perks in a way that wouldn't be possible otherwise, such as order-ahead capabilities for coffee and automatic dog wash activation.
"If someone's at work and they're 10 minutes away and they say, 'Hey, I'm going to go to the car wash and I want a coffee, ' they can place their coffee order from their desk [in the app]. They don't have to reenter any card info. Once they arrive on site, their coffee will be right there at the window, waiting for them to pick up whenever they go through the tunnel."
Retaining Members
McBee's has seen a significantly higher member tenure for app-users than non-app users. While the average tenure for a non-app member is around six months, the tenure of a member with the app is over a year.

In recent months, McBee's has seen about 30% lower churn for members who are app users vs non-app users. the mobile app allows an owner to message members proactively to prevent churn. They can message a member to remind them to update expiring credit card info or even down-sell a member into a cheaper plan if they try to cancel their current plan.

App users can also manage their own membership at their fingertips, which McBee believes has been an important factor in increasing retention.

"Empowering members is how you keep them. Even though you wouldn't think giving a member the reigns and making it easy to cancel would help retain memberships, it actually empowers the customers to do what they want, and that keeps them there longer."
Zero Staff Maintenance
Using the Beacon Mobile app has also greatly reduced the time his team spends helping members update or cancel their plans since members can easily do this themselves within the app.

"I hear nothing from app users. With the non-app users, I get complaints non-stop from people about how they can't manage their own membership. We push our members to join the app [and] be a part of the app experience. It just makes things seamless for us."
A Mobile Future
With seven successful locations and growth plans on the horizon, McBee views his Beacon Mobile app as an integral part of his strategy. He envisions a world in which 80% or more of his customers are app users and members, allowing his customers to have the best McBee's Coffee and Carwash experience possible.

"By the end of this year, we're going to be utilizing every single feature that could possibly be utilized on that app. And that's going to send
our membership levels through the roof.
I have zero doubts about that."