October 19, 2020 | Todd Davy
Whether it's the winter in the north or bug season in the south, there tend to be periods of time when customers flock to the car wash. These are the times that can change the trajectory of your business year. You must capitalize on the opportunity while eliminating obstacles that may hamper your ability to serve these additional customers.
If your busy season is coming up, make sure you're prepared. Here are some factors you should consider before the cars start lining up.
Speed and Accuracy
For tunnel washes, getting customers through quickly with the correct wash is critical to maintaining a steady flow of business and happy customers. This is especially important – and challenging – during your busy season. Fortunately, car wash technology can help you increase tunnel productivity, accuracy and efficiency.
Queuing Technology
Queuing technology displays pictures of each queued car on a large screen, allowing loaders to quickly adjust queue positions, apply retracts and report any pre-wash damage with the touch of a finger. They also help attendants monitor wait times so they can adjust prep time during peak hours.
Sonar Profiling Technology
This technology will automatically adjust equipment for vehicle features like pickup truck beds, windshields and side mirrors. This results in quicker and more accurate adjustments because it requires no intervention from employees.
Tunnel Optimization and Anti-Collision
Rather than depending on traditional anti-collision systems to prevent accidents, consider an advanced tunnel optimization service. Using video, advanced computer technology and a support team, this type of system monitors the entire tunnel, not just the exit. With this technology in place, attendants can confidently load vehicles at optimum levels to better manage high volume.
Moreover, it reduces the downtime created by in-tunnel collisions, which is essential during peak times. A monitoring team and reporting engine back up the technology to point out misaligned equipment and areas where you could improve, such as loading speed, providing a key training opportunity.
Preventing Downtime
You also want to make sure your equipment isn't causing unnecessary downtime. Before the busy season:
Replace old computers
Upgrade software
Perform all necessary preventative maintenance
Have backup parts on hand, when possible
Be Alert
Of course, all the planning in the world won't guarantee smooth sailing. When there's a problem at your wash, it's critical that you know as soon as possible. If your wash is unattended, this can be challenging. One way to stay on top of issues at your wash is to utilize an enterprise management system, like Director®, that will send you alerts.
Staff Up
If your wash is attended, is your current staff large enough to handle the increased volume you're expecting? If not, hire as soon as possible so you have plenty of time to train them.
Don't forget to retrain your existing staff, especially on proper line management and loading procedures. Even with the best technology, your ability to serve your customers is directly linked to the training and commitment of your team.
Marketing Considerations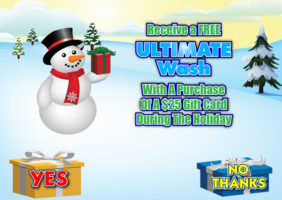 To ensure that your wash draws the traffic you expect, you may want to consider special promotions and up your marketing efforts if there is a lot of competition in your area. On the other hand, if you know your site is going to be slammed with business, you may want to scale back your marketing. There's no need to give money away in a promo if you're already running at full capacity.
If you're planning anything that will require intervention from your point-of-sale provider (pricing changes, promotions, new pay station screens, etc.), request these changes early. Other operators in your region will have similar requests, so you could experience longer lead times. Plan to schedule a consultation with your POS provider 4-6 weeks before you want changes implemented to ensure timely delivery.
Line 'Em Up
No matter how busy you are, your customers are going to expect fast, quality service. By using these tips, you can keep them moving and keep them coming back for more.