November 14, 2023
The Challenge
A family-run Southern California chain wanted to stand out in a competitive market.
To do this, they knew they needed a unique campagn to grab attention and a strong customer engagement strategy to build member loyalty from the flrst wash.
They were also interested in controlling churn so that they didn't need to worry about losing cost-conscious customers as soon as that first full-price recharge hit their credit cards.
The Solution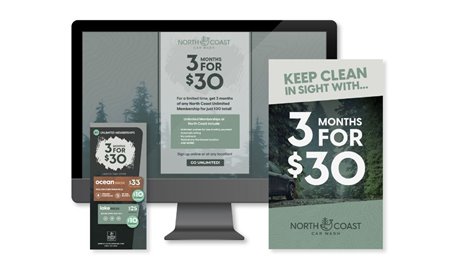 The car wash engaged SUDS®, DRB®'s analytics, software and design-driven car wash marketing agency. SUDS proposed a 3 for $30 promotion, wherein new unlimited members would get their first three months of membership for $10/month. We knew that extending the duration of the offer would keep members engaged beyond a typical first-month discount and give us time to build a habit of regular washing that would drive the loyalty that the client was looking for.
We used a multi-channel approach across print and digital, including eye-catching creative, to get this offer in front of the chain's best-fit customers. We also delivered a robust nurture program to ensure we stayed engaged with new sign-ups and helped them build a habit of repeat visits in the early days of mem- bership, which our data tells us is the number one driver of long-term retention.
The Results
With this promotion, our client incresae their membership by almost 40% across their five sites. Three months post-campaign, they had retained 85% of the new members who signed up - an almost 20% increse as compared to first-month discount campaigns. The campaign was so popular that the client ended up running the promo offer for an additional month to meet high customer demand.
SUDS delivered over 10x ROI in monthly recurring revenue (MRR) on the initial marketing spend. To learn how they increase your MRR, request a consultation.