Line Conditioner & Surge Suppressor
P/N SA3053; List Price $1,156
The line conditioner and advanced surge suppressor is recommended for all payment stations to reduce electrical noise and power surges coming into the power of the unit. This option, for all AC-powered payment stations, can reduce down-time caused by power surges or electrical spikes.
Product Information
The unit is a low frequency tuned power inductor that passes 60 Hz power and rejects fast moving voltage spikes. The output is protected by surge suppression for any spikes that get by the low frequency tuned power transformer. The unit contains no MOV devices so it does not wear over time after multiple surges.
The device has a 10-year warranty, installs in the equipment room and is mounted into a NEMA 12 enclosure (wiring is not included). Please note that this product should be installed by a licensed electrician according to national and local electric codes.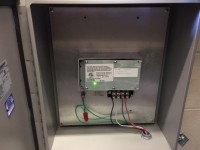 Specifications
Input/Output Voltage 120V
Maximum current rating 20A
Tested under power to C62.41-1991 (formerly IEEE 587) Category B3 (C1) pulse
Endurance test: 1,000 surges of 6,000 volts, 3,000 amperes, SRV <400 volts, no failures, L-N (ground wire protection) mode, U.S. Gov't. Mode 1.
Maximum Applied Surge Pulse Voltage: 6,000 volts (1.2 x 50 microseconds) (Industry Standard rating).
EMI/RFI Filter Response: (bi-directional, wave tracking): With 50 ohm Rg load: 3db at 5kHz; 26dB at 100kHz; 38dB at 300kHz.