How to Setup a Fund Raiser
The fund raiser is a code-activated promotion intended to encourage supporters of an organization to use the car wash. No discount or other benefit is provided to the user at the wash but usage of the fund raiser "code" is tracked and reported. The operator will typically donate a set amount to the organization for each wash purchase where the fund raiser code was entered. Fund raisers can be configured to apply to any of the available washes and usage can be controlled by a schedule and a limit for the total number of redemptions allowed.
When a fund raiser code is entered and validated, a thank you message will be displayed and washes that are not associated with the fund raiser will be removed from the product selection screen.
The process for setting up a fund raiser is:
Set up a fund raiser through the Promotions function of the Sierra management system.
Download all devices.
Setup Fund Raiser in Promotions
To setup a new fundraiser, go to the Promotions tab at the top of the screen, then select Summary in the left frame.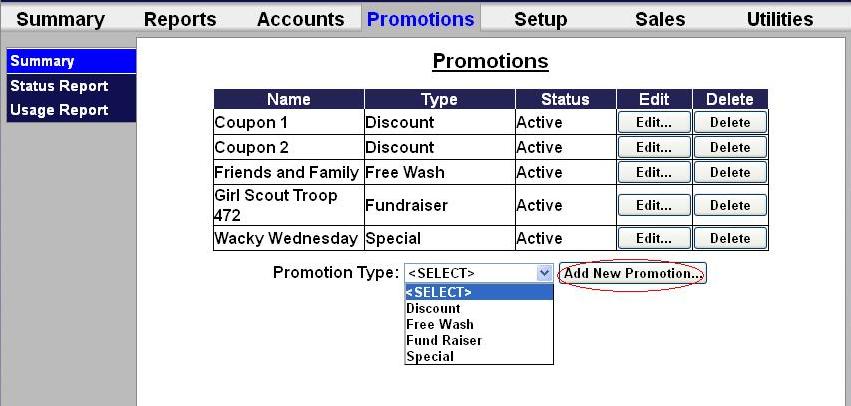 Select Fund Raiser from the drop-down menu at the bottom of the table, then click Add New Promotion.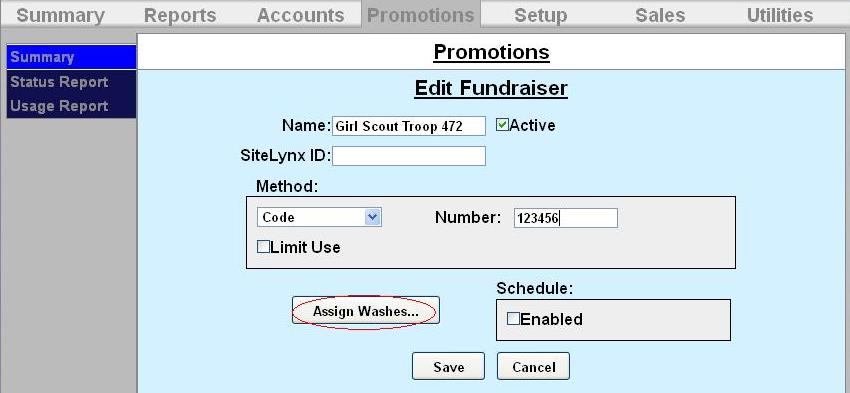 Enter the name of the fund raiser. Select Active to enable the promotion.
Select either code or barcode for the redemption method. Enter the code or barcode number in the box. Note: You must have the barcode reader option installed in your entry unit in order to read barcodes.
If you wish to limit the use of the promotion, select Limit Use then enter the maximum number of times the promotion can be used.
Click Assign Washes.

Select the wash you wish to assign from the drop-down menu then click Add to List.
Enter the amount of money you pledge to donate per wash.
Repeat for any additional washes. If you want to change or delete a wash, click Remove from List by that wash.
Click Save.
If you want the promotion to only run on certain days, under Schedule, click Enabled.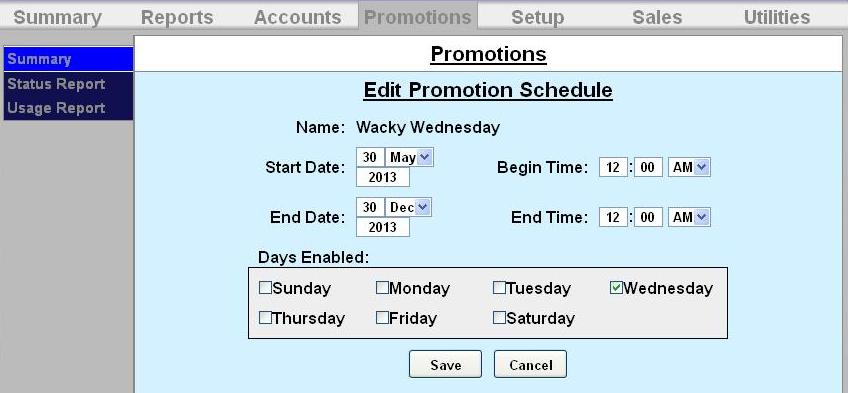 Download Device Profile
Download the device profiles to refresh the products on the unit.
Click on Devices in the left frame.
Click Download next to the unit you would like to refresh.