How to Setup a Scheduled Special
Scheduled specials are discounts that are scheduled to automatically be applied at certain times and on specific days. The special can be configured to apply to any and all of the available washes and the amount of the discount can be set to vary for each wash package. When a scheduled special is active, the price posted for the associated wash will be reduced (on the wash section screen). The car wash operator can set up scheduled specials so an additional discount can, or cannot, be applied when the special is active. If enabled, the schedule special will be automatically applied on the set day and time. When the time expires, the normal wash package prices will be displayed.
Note: The Wash Select II® can only support two specials running at the same time. All other entry systems can support multiple specials running at the same time.
The process for setting up a scheduled special is:
Set up a scheduled special through the Promotions function of the Sierra management system.
Download all devices.
Setup Scheduled Special in Promotions
To setup a new scheduled special, go to the Promotions tab at the top of the screen, then select Summary in the left frame.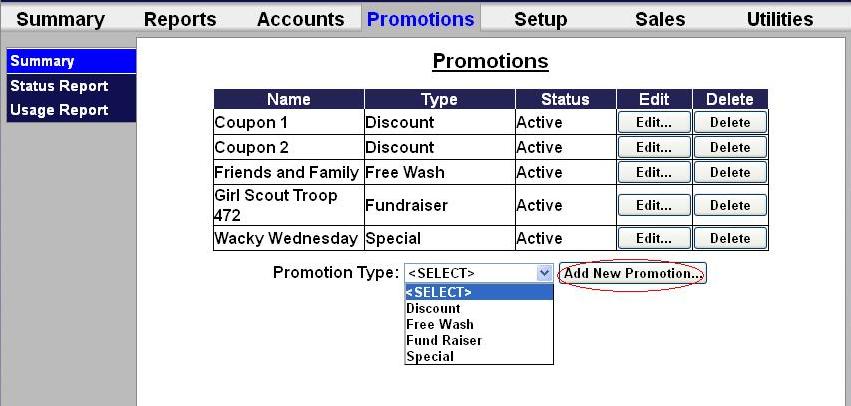 Select Special from the drop-down menu at the bottom of the table, then click Add New Promotion.

Enter the Name of the special. Select Active to enable the promotion.
Click Assign Washes.

Select the wash you wish to assign from the drop-down menu then click Add to List.
Enter the amount the discount is worth. Repeat for any additional washes the discount will be applied to. If you want to change or delete a wash, click Remove from List by that wash.
Click Save.
Click the Edit button in the Schedule box.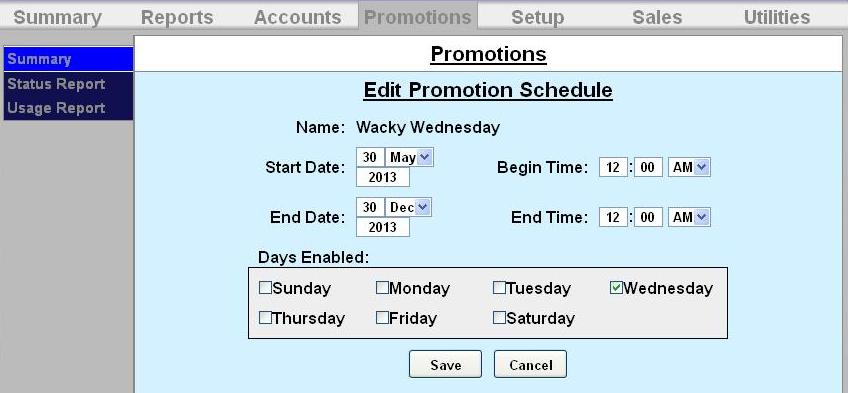 Download Device Profile
Download the device profiles to refresh the products on the unit.
Click on Devices in the left frame.
Click Download next to the unit you would like to refresh.