They say you can never go home again, but for Jeff Fields, home was where he discovered his purpose and passion in car washing.
Fields' parents had owned the Tender Touch Auto Wash chain in Bowling Green, KY, since the late 1980s, and he had casually worked there growing up. But like many young adults, Fields struggled to find his place.
After trying to go the college route, the Kentucky native ended up in Arizona working for his uncle in the automotive reconditioning business and then in the hospitality business. But it still wasn't quite the right fit. Then his father asked him to come back and help him with the washes. Soon, he was running the business and led the conversion of a full-service site to an express exterior.
"I immersed myself in the industry," Fields said. "I read books and really got into the trade magazines. I poured my heart and soul into it."
Fields' dad eventually sold Tender Touch, giving Fields the chance to forge his own path. In 2007, he opened his first Cheetah Clean Auto Wash in Owensboro, KY.
Since then, he has opened four more locations and has two others set to open in 2020. The chain is known for providing unparalleled quality, customer experience and, as its name implies, speedy service.
The Challenge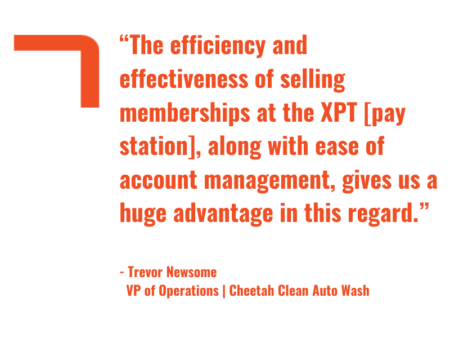 Much of Cheetah Clean's growth was achieved through acquisition, so Fields inherited equipment and technology he wouldn't have chosen himself.
Fields found some of the point-of-sale systems to be particularly troublesome. They struggled with spotty support, insufficient reporting and nagging pay station issues. The ongoing problems were frustrating and stole valuable time from his key employees.
One particular POS system he acquired at his Radcliff, KY, location wouldn't allow employees to associate an RFID sticker with the sale of an unlimited car wash membership. This meant forcing customers to drive around the car wash and park their vehicle so they could go inside the office and get a sticker. His team made the POS provider aware of their issues and found no help from them to provide logical solutions.
These issues stalled the growth of the wash, particularly their unlimited wash plans. Cheetah Clean needed a consistent technology provider that would facilitate fast and lasting growth.
The Solution
Fields was familiar with DRB® Tunnel Solutions from using their technology at the original Tender Touch washes, and he was always happy with the quality of the technology and responsiveness of the support.
So, when he opened his first Cheetah Clean location in Owensboro, KY, in 2007, he installed DRB technology. With the help of DRB, they established unlimited wash plans, which were just starting to gain popularity. As a result, they did well even through the recession.
"DRB was great," Fields said. "When you called customer service, you immediately got a technician. With a lot of other companies, they had to call you back. I knew at that time DRB was the premier provider in that space."
Fields' struggles with other POS systems proved that over and over. He ultimately decided that trying to hobble along with subpar systems at his acquired sites was not worth the frustration. Now when he takes over a new car wash, he doesn't hesitate to replace the existing POS with DRB's SiteWatch® system.
The Results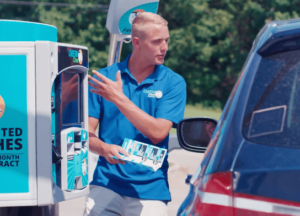 Each time Fields replaced an existing system with SiteWatch, the impact was significant. When he converted his Radcliff location, membership spiked, going from just 331 members to 1,300 in three months. The old Regal Auto Wash in Bowling Green went from averaging $25,000 in monthly revenue to generating $55,000 to $60,000 a month following the switch to SiteWatch.
Fields also began consulting other wash owners and urged them to go with DRB. One particular client that converted to DRB grew its volume from 2,000 cars a month to 10,000 cars a month in just one year.
But the value was even more apparent when they started with DRB from the get-go as they did with their new build in Franklin, KY. They enjoyed a smooth opening and signed up 1,000 members in less than two months. They now have close to 2,000 plans at each site thanks to DRB.
"DRB's system allowed us to ramp up so quickly and push memberships right off the bat," said Trevor Newsome, Cheetah Clean's Vice President of Operations. "The efficiency and effectiveness of selling memberships at the XPT® [pay station] along with ease of account management gives us a huge advantage in this regard."
But for Fields, DRB's real secret sauce is in the robust reporting capabilities provided by SiteWatch Web, the cloud-based reporting engine.
"DRB is right there as far as having the statistics you need to figure out what is going on with your business," Fields said.
The Future
Cheetah Clean is continuing to grow with a fifth location set to open in May 2020 in Shepherdsville, KY. It will be the first Cheetah Clean site to utilize DRB's license plate recognition solution FastID™. Fields wants to continue to expand the chain.
"We're trying to get to 50 units," he said. "We're primarily focused on new sites."
Fields is also working on franchising the Cheetah Clean brand and continuing to consult other car wash operators.
"DRB has really helped our growth," Fields said. "We're excited for the future."