MasterCard BIN Expansion for Modem Processing
If you are processing credit with a DataCap modem, you may need to swap, reprogram or purchase a new modem. First, determine if you are using an IPTran, DialTran, or DataTran model modem.
IPTran Modems
If you are using an IP Tran:
Send DRB® In-Bay Solutions an email with your site and modem information.
DRB will reply to your email with a screen shot of your processing information within three business days.
Please respond to the email, confirming that the processing information is correct.
DRBwill send you an RMA /Work Order number if you would like to have your modem Reprogrammed or Swapped. You also have the option of purchasing a new modem. See below for an overview of your options.
* Updating your IP Tran software to support the MasterCard BIN expansion will also resolve the upgrade required to support industry changes to security protocols for IP-based (Internet) transactions.
DialTran Modems
If you are using a DialTran, please contact your Distributor to upgrade to Internet processing. Effective 2/20/17, DRB no longer offers dial processing. Swaps are available while supplies last.
DataTran Modems
If you are using a DataTran, the software is not able to be upgraded and the modem is not PCI compliant. Your modem is not available to be Reprogrammed or Swapped. To accept the MasterCard 2-series BIN numbers, you need to purchase a new modem through your Unitec authorized Distributor or Manufacturer.
New Modem Pricing - IPTran, P/N SA2330, List Price $1,495
Determining Modem Model
You can determine which model you have by looking at the back of the modem.
IPTran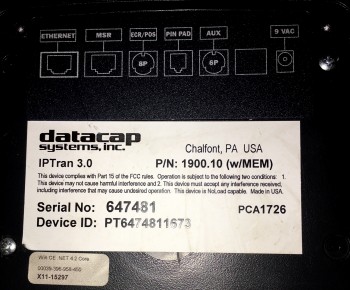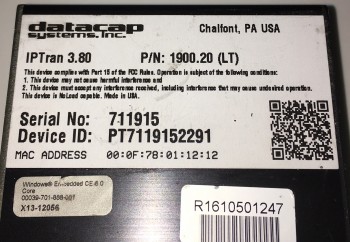 Options for IPTran only
| | Reprogramming | Swapping | Purchasing New |
| --- | --- | --- | --- |
| Process | Modem is removed from the unit and shipped to DRB In-Bay Solutions. DRB programs your modem and returns it to you. Your unit will not have a modem to process credit during the process. An RMA # is required. | You purchase a refurbished modem, which is programmed with your processing information. Once you receive the modem, you send back the older modem to receive the core (return) credit. An RMA # is required. | You purchase a new modem, which is programmed with your processing information. |
| Cost | $450 | $1,431 List Price A Core Credit is issued when modem is returned. | $1,495 List Price for IPTran |
| Involvement | DRB works directly with Site Owner. | Site Owner purchases refurbished modem from Distributor. | Site Owner purchases new modem from Distributor. |
| Risk | Modem may not accept reprogramming. In this instance, a swap or new modem may be purchased. | Modem may be too old to receive core credit, however this would be determined before it is sent in. | None |
| Warranty | No additional warranty | 90-day warranty | 1-year warranty |


DialTran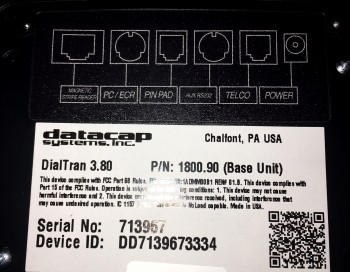 DataTran