How to Setup Token Dispensing
Tokens can be dispensed from the Portal®, Sentinel®, and Wash Select II® to promote other areas of your site, such as vacuums or vending machines.
Note: In order to dispense more than 1 token, you must have multiple coin hoppers and Sierra v1.52.
The process for setting up token dispensing is:
Program the coin acceptor to accept that token type.
Program your coin dispenser to dispense the token on the device peripherals section of the Sierra management system.
Add the token to your wash packages, added services, discounts, or free washes through the device profile on the Sierra® management system.
Download the device.
Program Coin Acceptor
Program the Coin Dispenser
Go to the Setup tab, then to the device profile where you will configure the coin dispensing (Portal, Sentinel, Wash Select II) and click Edit by the device name. Then click on Peripherals in the left frame.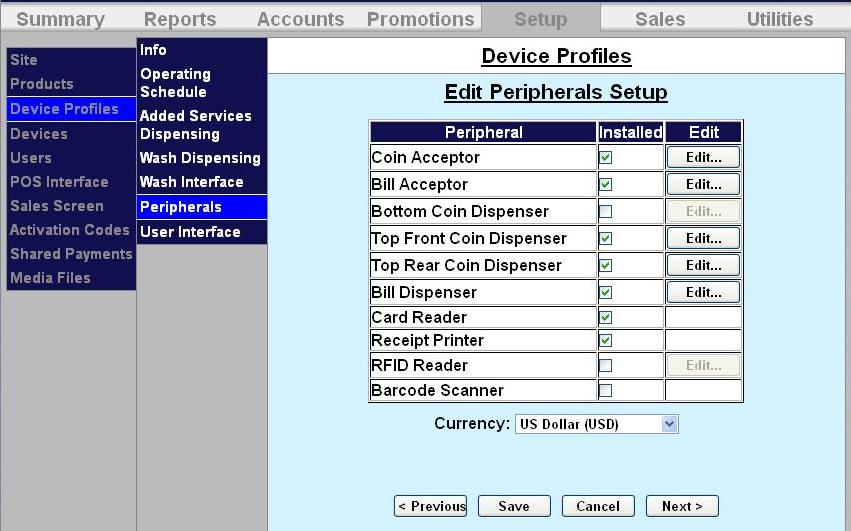 To program the coin dispenser to dispense tokens, click Edit next to the coin dispenser to configure it. In this example, we will use the top front coin dispenser.



Select the token you will be dispensing from the drop-down menu.
If you would like to receive notifications when the dispenser is running low on tokens, click Enable in the Low Coin Detection box.
Enter the low coin limit, which is usually 10% of the max capacity. When the coin hopper reaches this limit, the Sierra system will send a notification that the coin dispenser is running low and should be refilled.
Click Save to return to the main Peripherals page.
Download Device Profile
Download all devices
Download Device Profile
Download the device profiles to refresh the products on the unit.
Click on Devices in the left frame.
Click Download next to the unit you would like to refresh.