April 07, 2022
If anyone tells you tradeshows are dead, they've never seen a car wash industry show. The industry's largest show, the International Carwash Association's Car Wash Show, attracts more than 8,000 attendees each year.
Tradeshows are a great place to see car wash products in action, talk to vendors and hang out with other car wash operators. There are several regional tradeshows annually in addition to The Car Wash Show.
If you've never attended a show before, the first time can be intimidating. We're here to give you the secrets to success so you can approach your first show like a seasoned pro.
Beyond the Show Floor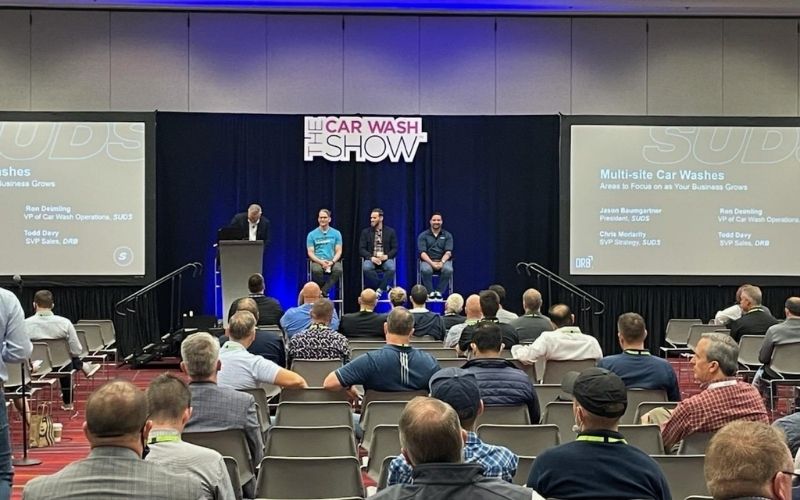 There is so much more to a car wash tradeshow than the show floor. Most shows include educational sessions, talks from keynote speakers and even programs for operators with specific needs, such as new investors and managers.
Check out DRB's education sessions at the 2022 Car Wash Show
Some of the best experiences from a tradeshow you'll never find on any schedule, though. It's the conversations that you have with fellow car wash operators that are really at the heart of it. Car washers have great camaraderie and love talking business. Make sure you are open to networking and plan to meet up with operators outside of the show.
It's particularly helpful to seek out people who have similar weather patterns and demographics as you so you can share solutions. As long as they aren't a direct competitor, operators are usually more than willing to share tips and tricks.
What's Your Plan?
With so much to see and do, it's important to go in with a plan. Think about what your goals are. Are you a new investor seeking to learn about the industry? A savvy owner who wants to see all the latest in car washing? Or maybe you just want to take advantage of those networking opportunities.
Here are some things you'll want to do before you get to the show:
Review the show schedule to see when the show floor is open and ensure you don't miss any sessions or events.
Check out the show floor map so you can determine which booths you want to visit.
Have a list of questions ready to ask vendors on the tradeshow floor so you get all the information you need.
Download the app, if one is available. This will help you map out your schedule and provide easy access to all the information you need.
Logical Logistics
Much like planning for a vacation, you want to make sure everything is in place to make the tradeshow as comfortable and stress-free as you can. These tips can help:
Register ahead of time to ensure you get a spot and to get the lowest, "early bird" pricing.
When booking accommodations, consider not just price but the proximity to the event location, restaurants and entertainment. Pro tip: Some of the best networking opportunities are in the hotel at breakfast or after hours in the bar.
Pack comfortable shoes. Between the show floor and any after-hours plans, you'll be doing a lot of walking.
Have at least one portable cell phone battery bank charged up.
The First of Many
In the car wash industry, there is always something new to learn, new products to discover and new friends to meet. While your first tradeshow can be daunting, it can be an amazing experience if you plan ahead. We have no doubt that once you attend one, you'll be excited to attend many more.